China unleashes a bear: stock market crash a risk & an opportunity for India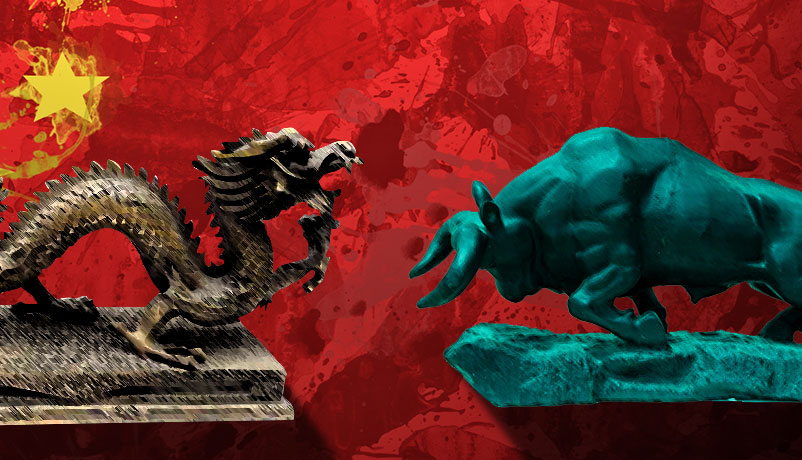 The mayhem
China devalued its currency, the yuan, by 0.5% to 6.5646 per dollar on Thursday
This caused a crash in the Chinese stock market & consequently, mayhem across the world
Investors around the world are estimated to have lost $2.5 trillion because of this
The impact
Commerce and Industry Minister Nirmala Sitharaman feels that India will be negatively impacted
But experts on China feel there\'s not much cause for India to feel alarmed
More in the story
Will the crash have any long-term impacts on the Indian economy?
How this crash has presented India with a great economic opportunity
It has been a horrible week of trading for global stock markets. Investors from around the world have seen $2.5 trillion of their money wiped off.
On Thursday, 7 January, the Bombay Stock Exchange plunged over 500 points to hit a 52-week low of 24, 825 points, in reaction to the mayhem in the Chinese stock market, which halted trading for the second time in four sessions. The benchmark Shanghai Composite Index slumped 7.32%, or 245.95 points, to 3,115.89.
Read: Sensex faces bearish brunt, falls below 25,000-mark after four months amid weak global cues
In July and August 2015, a similar kind of rut in the Chinese market had forced the US Federal Reserve to delay hiking interest rates, as it was felt that the world stock markets would become very volatile, leading to destruction of wealth.
And even though markets around the world were able to arrest the fall on Friday, it is important to understand just why the Chinese market was jolted, and whether this will impact India's economy in the long run.
Chinese model of growth
Over the years, the Chinese economy has boomed on the back of exports. However, due to the global recession, there is a surplus that is piling up as inventory.
Moreover, China has $28 trillion pile of public and private debt, which requires the government to sell its products within or outside the country, to be able to meet its obligations towards lenders.
While the Chinese government has tried to increase the domestic demand for its products, it has failed miserably as the people do not have enough purchasing power to increase consumption. The household sector (wages, salaries and consumption) contributes about 36% of China's GDP, having peaked at 56% in 1983.
China stock market crash shook markets around the world. The BSE plunged over 500 points on Thursday
Having come to the realisation that sustaining growth through domestic consumption wasn't possible, China resorted to its tried-and-tested way of making its exports more competitive. This is what the the People's Bank of China did on Thursday, when it devalued its currency yuan (also known as renminbi or RMB) by 0.5% to 6.5646 per dollar, the lowest since March 2011.
In a world that has seen the destruction of demand due to the debt crisis in Western economies, the decision to devalue the yuan put pressure on all the currencies of the world, especially the Asians that compete with China for export share.
Cause for alarm?
But should a 0.5% depreciation have led to such a mayhem in the market? Are there signs of a currency war?
Nirmala Sitharaman, India's Commerce and Industry Minister, is alarmed at the current situation. "The depreciation of the yuan is definitely going to make imported goods (from China) cheaper. The fact is, my deficit with China will (also) grow," Sitharaman told reporters after the first meeting of the Council for Trade, Development and Promotion on Friday.
In 2014-15, the bilateral trade between India and China stood at $72.3 billion, with the trade gap at $49 billion.
Some Western economists have already said that this is the beginning of the currency wars, when every country would be forced to reduce the value of its currency to export more.
However, Alka Acharya, professor of Chinese studies at the Jawaharlal Nehru University, says the situation is not so grim at the moment. "Currency devaluation by China can put some pressure on other economies, but still, this is not that alarming a situation, certainly not a currency war," she says.
Also read- Yuan devaluation: China cannot just export its way out of trouble
Acharya's colleague at JNU's Centre for East Asian Studies, Prof. Srikanth Kondapalli, agrees that the slowdown in the Chinese economy is not that worrying for India. "Most of our exports to China are in the form of raw material like iron ore. Yes, cheap exports from China may hurt the industry, but we can deal with it by increasing import duty on those products," he says.
One of the key reasons for the fall in the Chinese stock market, says Kondapalli, is the bubble created between June 2014 and June 2015. In that period, the valuation in the Chinese stock market had gone up by 150% on the back of new domestic investors.
"As many as 60 million new investors had started buying shares in the Chinese stock market at a time when the economy was not doing well. So, the market was trading at an artificially high level. It witnessed a shock in August 2015, and it faced a shock in January 2016, and it will continue to feel such shocks until it reaches its real value," Kondapalli says.
An opportunity for India
Manoj Pant, professor of International Trade at JNU, says: "The stock market crash in China can mean a good thing for India. If the investors are taking their money out of China, they will have to invest it somewhere. Unlike China, India has a big domestic market. If India continues its growth above 7%, a part of that money that leaves China can come to India."
The People's Bank of China devalued its currency, the yuan, by 0.5% to 6.5646 per US dollar
Pant explains what sort of strategy China can employ to revive its economy. "Since China has failed to generate demand in its domestic market, it is looking to invest in other countries to generate demand for its products. For this, Chinese banks are ready to invest a huge amount of money in developing economies," he says.
This need to invest elsewhere could be advantageous for India, as the country is looking for money to develop infrastructure.
"India should look to open up its infrastructure sector for investments from China. Infrastructure development will create jobs in India, and this would help the Indian economy grow," Pant adds.
More in Catch:
China's Renminbi approved by IMF as fifth reserve currency: Here's how China joined the elite circle
Focus on 'abducted' SP but drug smugglers may hold the key to #Pathankot
Change in strategy: Pathankot latest example of ISI & Pak Army's new track
Census 2011: India's largest minority Muslims are no better today than a few decades earlier