Cash crunch: Why India cannot afford empty ATMs again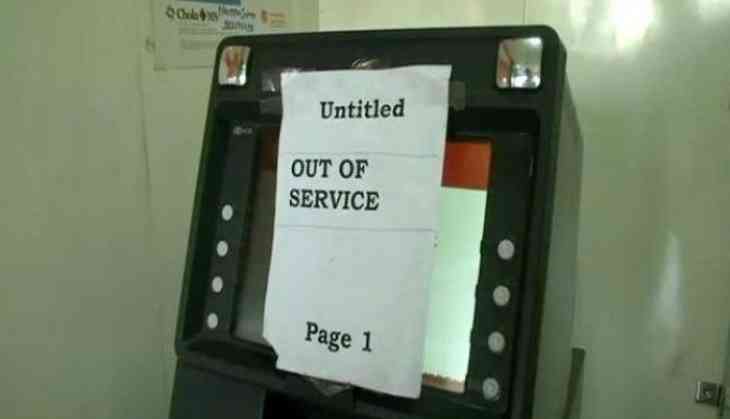 The dreadful memories of long queues outside ATMs in the country returned on Tuesday with as many as 15% of the total note-dispensing machines running out of cash. The cash crunch in the economy was first reported last week in the certain parts of Telangana and Andhra Pradesh, however on Tuesday morning the spread of the cash crunch was reported in Bihar, Gujarat, Delhi, Uttar Pradesh, Maharashtra and Madhya Pradesh.
The news spread like wildfire among common people as well as politicians forcing financing minister Arun Jaitley to tweet, " Have reviewed the currency situation in the country. Overall there is more than adequate currency in circulation and also available with banks. The temporary shortage caused by 'sudden and unusual increase' in some areas is being tackled quickly".
But a tweet was not enough to resolve the troubles of people, giving the Opposition a reason to criticise the government.
West Bengal Chief Minister Mamata Banerjee added fuel tweeted "Seeing reports of ATMs running out of cash in several States. Big notes missing. Reminder of #DeMonetisation days. Is there a Financial Emergency going on in the country? #CashCrunch #CashlessATMs."
How much cash is there in the economy?
According to the RBI data released in March this year, currency with the public stood at Rs 17.06 lakh crore as on 18 February as against Rs 17.01 lakh crore seen on October 28, 2016.
Currency with the public excludes cash with banks, while currency in circulation includes notes in circulation, rupee and small coins, and deposits with commercial banks in current and savings accounts. The same report by RBI shows that as on 23 February, total currency in circulation was Rs 17.82 lakh crore, or 99.17% of pre-demonetisation levels of Rs 17.97 lakh crore.
This means that the level of cash in the economy is at a normal level, which leads to the speculation if this is a case of planned hoarding of currency?
Madhya Pradesh Chief Minister Shivraj Singh Chouhan indicated similar fears by alleging that a conspiracy of hoarding Rs 2,000 notes had led to this situation.
But is it possible to hoard cash to the level that it leads to cash shortage in the whole country? One should note that digital transactions have significantly increased in the country post demonetisation. According to the RBI data the amount transacted digitally increased to more than $2 lakh crore with 1.11 billion transaction in January 2018. This is why any attempt to hoard cash by any institution may come a cropper today.
Many people in the political circles are of the view that due to upcoming elections in several states, political parties have begun hoarding notes.
However, never in the past has such a situation has been reported ahead of elections.
Arun Kumar, a former professor at Jawaharlal Nehru University and an expert on cash economy is of the view that "such a sudden shortage of cash could be a result of some rumour in the market that has shattered the trust of people in the banking system. People must be hoarding cash with themselves, leading to cash shortage. The government will have to ensure that the trust in India's banking system returns and people begin normal transactions in the country."
What measures is the government taking?
The Economic Affairs Secretary Subhash Garg on Tuesday said that for meeting the additional demand of currency Rs 500 currency notes worth Rs 2,500 crore are being printed every day. The government plans to print Rs 70,000-75,000 crore worth of notes in a month.
Banking Secretary Rajiv Kumar said that the shortage of Rs 500 notes will be resolved withing five to seven days as the government had stepped up currency supply.
What if the government's promises fail?
It would be disastrous for the economy. The Indian economy had taken a beating due to demonetisation pulling down country's GD growth by two percentage points to 5.7% in the first quarter of 2017-Cash crunch had forced thousands of small scale manufaturing units to shut shops and fire people. According to CMIE report, more than 1.5 million people lost their jobs between January-April 2017 due to demonetisation
"We had to tell our suppliers to wait for a few days for payments. We are not sure if the cash with us would be sufficient to run our operations in the coming days," said a Ravi Ahuja, who runs a small manufacturing unit in Shahadra.
Cash crunch does not only kill traders, it also brings bad news for farmers.
Devinder Sharma, agriculture sector exprt warns of the lingering threat to the farm economy in case the government fails to control the cash crisis in the next few days.
"This is the beginning of the harvest season and any cash shortage in the system will hurt the farm sector and farmers the most. Farmers would have to sell their crops for less cash, this is what they did in November 2016 when the government had demonetised currency. They are yet to recover from that assault. Let's hope they do not have to face that situation again."