Can Indian economy afford a war with Pakistan? Here are six startling facts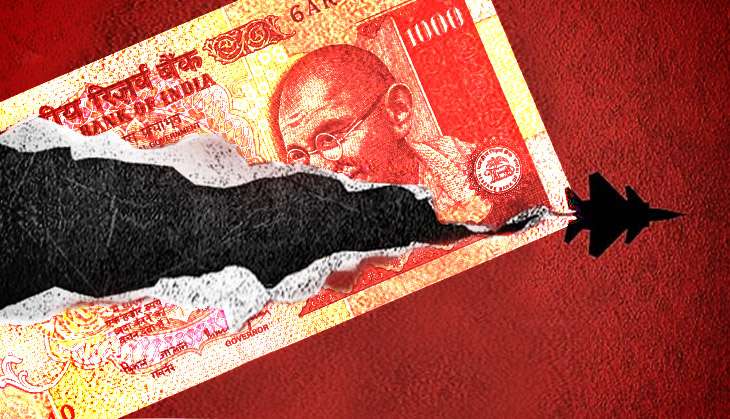 India\'s surgical strikes across the Line of Control have given rise to fears of a full-blown war, especially in case Pakistan decides to strike back to pacify its masses.
But wars have never had a constructive effect on any country. Not only are human lives lost, but participating nations\' economies suffer as well. Money meant to be spent on development is diverted towards buttressing the armed forces.
Wars also damage the infrastructure within a country - such as roads, highways and ports - as well as telecommunication towers.
Hospitals come under pressure due to casualties at borders, as well as interior areas in case of surgical strikes by opponents.
In this scenario, let\'s analyse whether India can afford a war with Pakistan, especially at a time when the Indian economy is trying to recover from a slump.
01
The impact on inflation
The Indian economy has been struggling with inflation for quite a few years. Since 2008, the average Consumer Price Index, also known as retail inflation, has been at 8.73%, which is double than the Reserve Bank of India's comfort zone.
India witnessed two consecutive droughts in 2014 and 2015, due to which the prices of food items had skyrocketed, making most food items unaffordable for the lower and middle classes.
To put in things in perspective, the 1971 war broke out in the month of December. The following year, India reported a massive rise in the average inflation, at 6.42% .
Given that India's current retail inflation is already above 5% , in case of a war, one can expect the inflation to easily go above 10%, making life difficult for people.
Wars destroy the value of money and the demand for products. This leads to consumer durable, FMCG and automobile companies losing business, which, in turn, forces companies to cut jobs.
So, in case India and Pakistan go to war, apart from those who are working in the government sector, most people will face the threat of job loss. India is already facing its highest unemployment rate in five years, at 5% of the workforce, which is estimated at above 50 crore.
Should there be war, lakhs of people may have to sit at home in the coming years.
As discussed above, when two countries fight, governments divert all their resources towards armed forces expenditure. While this may generate revenue for certain types of companies, the overall economy suffers.
So, in case you don't lose your job, there are chances that you will not get a salary hike next year.
04
Poverty alleviation programmes on the backburner
According to Business Today, the 1999 Kargil War cost India Rs 10,000 crore, followed by an increase in the defence expenditure, which went up from Rs 39,897 crore in 1998-99 to Rs 47,071 crore during the year of the Kargil conflict - 1999-2000 - a jump of 18%.
The increased budgetary support for defence forces results in a cut in expenditure for poor in the country.
India is home to the largest population of poor people in the world. According to a study conducted in 20011-12 by the then-chairman of the Prime Minister's Economic Advisory Council, C Rangarajan, India had an estimated 363 million, or 29.5% of its 1.2 billion population living below the poverty line. According to that study, people living on less than Rs 32 a day in rural areas and Rs 47 a day in urban areas were considered poor.
In case the country's resources are diverted towards war, the suffering for those living below the poverty line would be unimaginable.
05
Long term impact on growth
Growth comes through the development of infrastructure. Wars only lead to the destruction of that infrastructure, be it roads, ports, or oil and gas pipelines. This infrastructure takes decades of investment to be built up, but can be destroyed with one bomb.
Given that Pakistan and India both have long range ballistic missiles, both countries are capable of destroying each other's important infrastructure, which can handicap the economies of both countries.
The biggest cost of any war is the loss of human lives. BJP MP Subramanian Swamy recently said: "In the event of a nuclear war, Pakistani nuclear bombs can kill not more than 10 crore people. We are a country of (125) crore population. But our nuclear bombs can wipe out Pakistan altogether."
For the likes of Mr Swamy, 10 crore may just be a number. But that 10 crore may include you and me. Are we ready to pay this cost?
Edited by Shreyas Sharma
More in Catch
Surgical strikes on terror launch pads across LoC; Pak calls it unprovoked firing
Pakistan PM Nawaz Sharif condemns India's surgical strikes across LoC
Cheers, humour & some cynicism as Twitter India uses #ModiPunishesPak to react to surgical strike