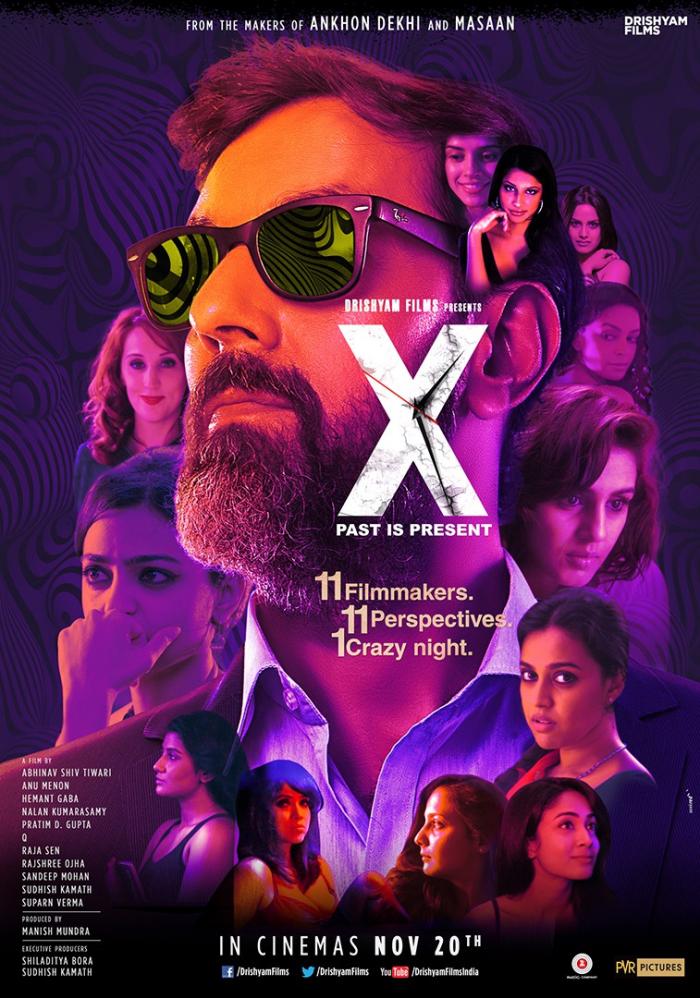 The core of the concept - 11 filmmakers creating different segments of one man\'s love life - is interesting.
But the basic attempt of connecting each phase falls flat.
The on-screen rendition resembles an incoherent mishmash of forced meta moments
More in the story.
Rating: 1.5 (on 5)
X: Past Is Present is exactly the kind of film that lends itself to the ultimate expression of diplomatic ambiguity: A long-drawn "interesssting." followed by a sigh, two nods, and finally, a resigned smirk.
This is the polite way of stating that a film makes little sense unless one's drunk, asleep or one of its makers.
An unfortunate interpretation of 'Interesting'
As a cinematic experiment, X is an interesting idea. As cinema, it is not. As a collection of strained voices, it is interesting because it exists. As a schizophrenic exercise in storytelling, it is not. The people involved are interesting; the product of this involvement is not. The core of the concept - 11 filmmakers creating different segments of one man's love life - is interesting. The grammar of this collaboration, and its rather basic attempt to connect each phase, is not.
Multi-storied structure with weak foundation
A commitment-phobic filmmaker named K (Rajat Kapoor) meets a young girl at a film festival party. In his words, she is the "sum total of all his ex-girlfriends", and triggers an avalanche of vivid flashbacks. K's journey as an auteur is somewhat connected to these unremarkable experiences - from his first love in Delhi, to an incomprehensible London encounter with an amorous British tart; from his indecent proposition in San Francisco, to his drug-fueled writer phase in Mumbai.
Taking Independence Too Far
Most of these interactions are stilted, verbose and awkward. The treatment is hazy to the point of being deliberately condescending. It's almost as if this assortment of ex-critics and independent filmmakers unite to make an assertive anti-mainstream statement. Only, they seem to have realized midway through that perhaps this statement is self-conscious and a tad jumbled.
In order to compensate, they overdo the tortured filmmaker stereotype, the film-within-film cliches ("If this were a Hollywood film."), flashy editing, and overbearing philosophical mumbo jumbo.
The Bright Spot
In between, there's a lovely little segment in Kolkata, where young K (Anshuman Jha) shares poetry and companionship with a girl he never meets. They inhabit the same room at different times of the day. Reminiscent of the similarly themed Bengali film 'Asha Jaoar Majhe (Labour Of Love)', this part is tender and perceptive, and deserves to be a short film on its own.
Alas, it will forever remain a part of X. Or K. Or both.
One Decent Concept, 11 Wayward Directions
It is not difficult to identify why X may have once been a passable idea. Its glaring inconsistencies - tonal discontinuity, different styles, and even its amateurish point-of-view shot taking (you never really see yourself in your own memories, do you?) - are presented as strengths for a reason. When one reminisces about certain points in life, with each phase comes its own faces, moods, music, urgency, offshoots, atmospherics, scents and colours - different genres triggered by distinct emotions.
But this only sounds deep and poignant on paper. The on-screen rendition resembles an incoherent mishmash of forced meta moments - an unintentional Eternal Sunshine Of A Very Spotted Mind.
Result
The bottom line is you don't care for K, and you don't care who made or broke him.
It wouldn't have helped much either if Rajat Kapoor had looked less disinterested; or if Huma Qureshi could be any more disarming; or that Swara Bhaskar's Tamilian Mrs. Lovett forms an absurd addition to an already absurd film. All of them come across as little more than puppets in a showcase of - what really?
Harshavardhan Kulkarni's 'Hunterrr' earlier this year had also made a non-linear mess out of an amusing journey, but at least each phase was heavy on texture and tone.
In X, the hunters - 10 of them - become the hunted. For reasons, I suspect, they already know.