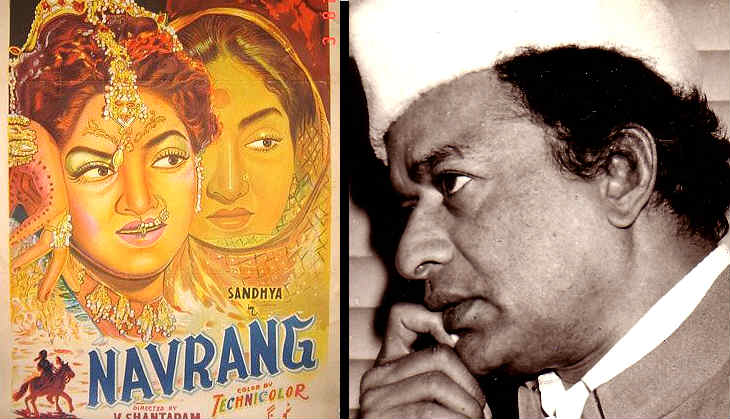 He is one of the founders of motion pictures in India. And calling V Shantaram just a popular historical name in the cinema industry would be an understatement.
He was, perhaps, the first ever Indian filmmaker who can be called a feminist in its true sense. In an era where a woman was recognised only on the basis of her role -- a mother, a daughter, a sister, wife; Shantaram Rajaram Vankudre showcased her as a woman who deserves respect and love for being herself.
The rebel in him was evident from the films he made. Aadmi (1939) was the story of a prostitute's struggle to get her respect back in society, while Dahej (1950) highlighted the dowry issues and Duniya Na Mane (1937) narrated the story of a girl's protest against her marriage with a much older man.
Also read: #CinemaTales: How Pran helped Om Prakash bag his big Bollywood break
V Shantaram is known for introducing various facets to the cinema. His ideologies behind film making remain widely acclaimed not only in India but across world cinema. Famous comedian and filmmaker Charlie Chaplin once went up to him after watching his Marathi film, Manoos at an international film festival and praised him for making a film which the society needs.
He was not just a man who married creativity with societal relevance; Shantaram was a dedicated and punctual filmmaker. While reminiscing about his punctuality, veteran actor Jeetendra once revealed an incident.
Also read: #CinemaTales : When Manna Dey moved Mohammed Rafi to tears
Few know that Jeetendra's screen debut came with Shantaram's dance-based film, Navrang(1959), that featured actress Sandhya in the lead. However, Geet Gaya Patharon Ne actor did not have a pivotal role in the film. But, he was used as a body double for Sandhya in the film. He himself narrated the incident:
"We were shooting in Bikaner. Mr V Shantaram was very particular about timing. I arrived late for dinner and he got very angry and told the production team to send me back. They told my make-up man not to get me ready for the next day's shoot. The next morning, I got up at 5 am and requested my make-up man to get me ready. I went to Mr V Shantaram's room in tears. He saw me all dressed up and was impressed.
Since then, I left no chance to please him. I would do his chamchagiri and did whatever he asked. So I even became a body double for Sandhya."
-- quote from rediff
Also read: #CinemaTales: When Naushad Ali helped Mukesh overcome his KL Saigal-style