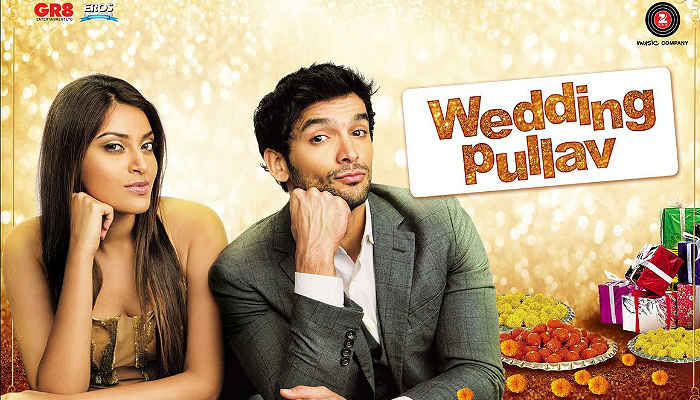 Jaane Bhi Do Yaaron, Parinda, 1942: A Love Story, Kareeb, Mission Kashmir, Devdas, Munnabhai M.B.B.S, Rang De Basanti, Bhaag Milkha Bhaag...no, I'm not randomly naming Hindi film classics. Binod Pradhan has been the cinematographer on each of these movies, and many more.
He makes his directorial debut with the rather ominously named film, Wedding Pullav - the millionth Bollywood love triangle between clueless boy, best friend tomboy and bimbo fiance. It's difficult to pinpoint the exact moment when most of his vision and experience got lost in translation, but I'm going to guess it was the grammatically incorrect line in the opening credits, "Thank you so-and-so for providing us wedding footages."
Unfortunately, his film is consistently bad - a poorer version of Always Kabhi Kabhi, which was already a questionable representation of today's Facebook generation. Believe it or not, there was an entire (Fanta) Cola Jingle passed off as a song for in-film branding in Red Chillies' AKK.
In any case, here are 10 things I've learned from the Big Fat Indian Wedding genre a.k.a Wedding Pullav Unplugged:
1. If a boy and girl, both attractive in their own ways, are best friends in the 'chaddi buddy' way, expect them to make a financially viable plan to get married together in Thailand - to different partners. Because that's what pals do. Except, sexual chemistry. And Kuch Kuch Hota Hai. Which reminds me, Himani Shivpuri continues to play the tragic lusty spinster, a cross between her Kuch Kuch Hota Hai big-hearted housekeeper and Dilwale Dulhaniya Le Jayenge needy aunt act.
2. They choose Thailand because stock footage of various North Indian tourist videos can pass off as grainy establishing shots. Also, loud Punjabi wedding - because what's a liberalist shaadi without a party/item song about empty bottles, alcohol and the beauty of alcohol?
3. The boy's friends are invariably creatures who show unnatural amounts of enthusiasm and a complete lack of social decorum. It's like they've been locked in a dungeon for years, and have finally been unleashed onto a bunch of unsuspecting guests at Indian functions. For example, they Dil-Chahta-Hai (overly sentimentalize) every moment of the behind-the-scenes footage(s).
4. Sonalli Seygall appears in her second Hindi film of the week after Pyaar ka Punchnama 2. Here, she's the daddy's girl who, after choosing that sincere boy, is the unwanted third wheel of his triangle. In a way, this is a spinoff to Punchnama. What goes around comes around, and this admirable character continuity proves that Seygall is at the receiving end of Hindi-movie justice in the same week.
5. Golgappas (or Paani Puri, depending on where you're from) are used as character-establishing devices. The 'bindaas' girl is the one who openly eats such street food without hesitance.
6. Behind the scenes at an Indian wedding, ancient grandmothers wax eloquent about sordid honeymoons and sexual appetites; old estranged couples (Parmeet Sethi and Kitu Gidwani) rediscover love in hotel lobbies, and Rishi Kapoor plays the nosy love-promoting Raj Aryan from Mohabbatein.
7. Characters speak to one another in taunts and phrases like they've been ordered to narrate their own scriptwriter-created backstories to one another. For example: "If only you paid more attention to your family instead of your corporate company" and "We are childhood friends. We know each other inside out." True that.
8. Guy with long hair and stubble (Karan Grover) is immediately not to be trusted because he is a painter of nude girls. Also, a tight sweaty hug on a hill is enough to overturn 20 years of friend-zoned bliss.
9. Boy initially chooses rich girl over tomboy because father-in-law holds the key to his dreams. As a bike-designer, his homework is limited to watching wallpapers of different development stages of the machine under the title 'BIKE DESIGN'
10. Lip sync is the last thing on a cinematographer's mind once he crosses over to the other side. Dubbing is a close second. Storytelling, scripting and transitions are a closer third.
Of course, after pining relentlessly with tearful faces throughout the second half, a slow-mo epiphany is inevitable. That's the essence of vanity projects after all. And Pullav is anyway frowned upon as an incapacitated version of Biryani.
Rating: 1 star