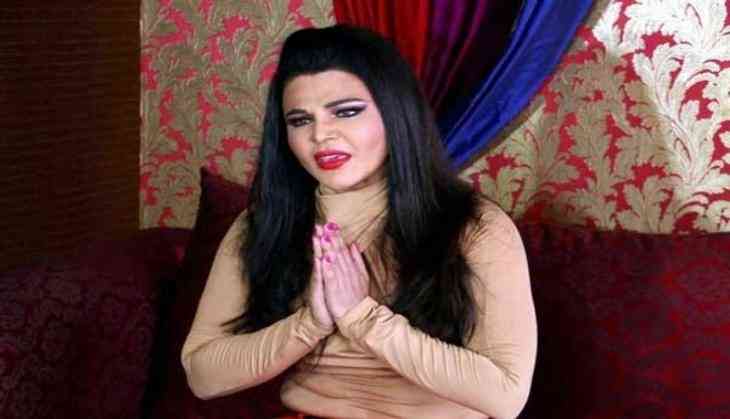 Bollywood's actress Rakhi Sawant who is well known for her attention seeking and senseless statements has once again come out with one more strange comment. Whether it is about weird fashion sense or making statements with zero sense of humour, Rakhi Sawant will also manage to top the list. Earlier, she was in news for announcing her a political party announcement.
These days Rakhi Sawant is being critical to Tanushree Dutta. Rakhi has now filed defamation charges against Tanushree after accusing her of raping her. Rakhi also disclosed why Tanushree had shaved her head.
Now, Rakhi Sawant has said that her body is pure like a temple as she is not being in any type of physical relationship. Rakhi said - I have changed myself now. I am absorbed in God. Rakhi Sawant also said Tanushree had shaved her hair in my love and sat down in the ashram because Mika had taken me for granted.
Also read: After separating from ex-husband Arbaaz Khan, Malaika Arora all set to tie knot with Arjun Kapoor by next year
Rakhi further added, "Tanushree had felt bad because Mika had kissed me. She said, 'only I can kiss to you.' But now I am involved praying to the gods. I do not even have physical relationships anymore. I will now marry straightaway. My body is now like the temple. So I have to keep it clean. God dwells within me. "Mera shareer ab mandir ke samaan hai. isiliye mujhe ise saaph rakhana hai. mere andar bhagavaan vaas karate hain, Rakhi said"
Not only this, but Rakhi Sawant also said, "You must be thinking that how can a girl rape a girl? Then I must tell you that Tanushree's biggest truth is that she is a lesbian." She said that Tanushree used to take me to the Rev Party, where she used to take drugs and later I got away from her.
Also read: Deepika Padukone Weds Ranveer Singh: Not once but Deepika and Ranveer will marry twice; secret behind two dates revealed