Last night Arjun Kapoor was targetted by a fan of Varun Dhawan who claimed that Arjun Kapoor is having a double standard relationship with Malaika Arora. The fan actually targetted Arjun Kapoor saying that he hated his father's second wife Sridevi just because his father left his mother. Now he is dating a woman who has a teenage son.
The fan tweeted, "You hate ur father's second wife bcoz your father left your mother, and now u r dating a woman who is 11 years elder to you and has a teenage son. Why double standards @arjunk26 ???"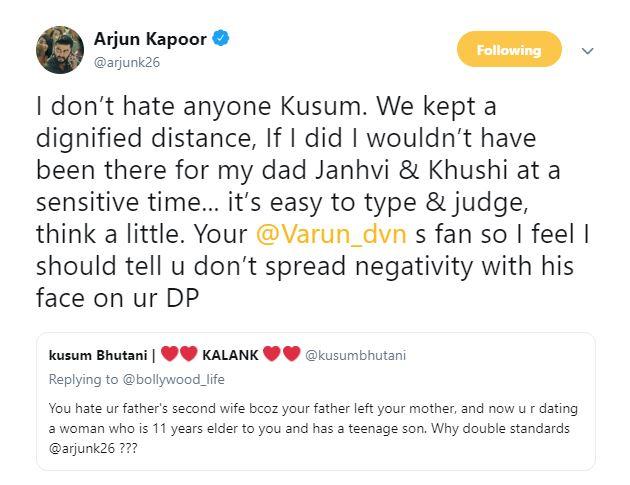 Arjun Kapoor tweet
Now Arjun Kapoor who has been seen rarely speaking about his relationship with Sridevi had to come out and give a reply to the user. He said that he kept a "dignified distance" from his father's second wife Sridevi and he also suggested the fan that she should not spread negativity having Varun Dhawan as her face on social media.
It's ok kusum... spread love... the street dancer is watching you... 😊 https://t.co/f91kscWJUp

— Arjun Kapoor (@arjunk26) May 28, 2019
Arjun Kapoor replied to her tweet, "I don't hate anyone Kusum. We kept a dignified distance, If I did I wouldn't have been there for my dad Janhvi & Khushi at a sensitive time... it's easy to type & judge, think a little. Your @Varun_dvn s fan so I feel I should tell u don't spread negativity with his face on ur DP"
Im glad u apologised kusum its okay arjun is not upset lets just all live our own lives ak has a big heart like I always say I don't want any of my fans to talk bad about any actors #keepiteasy https://t.co/o4aNGmbMjb

— Varun Dhawan (@Varun_dvn) May 28, 2019
Well, it looks like the Varun Dhawan's fan took it positively and she immediately apologized to the actor. As soon she apologized to Arjun Kapoor, he also responded beautifully with a brave heart. Even that made a day for the fan also because Varun Dhawan himself also came out and appreciated her fan to apologize.