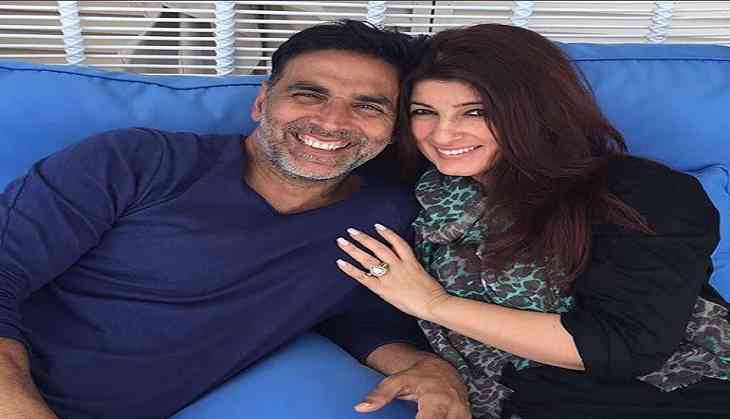 Bollywood star Akshay Kumar's wife Twinkle Khanna, who worked for a long time in Hindi cinema industry and after getting married to Khiladi she took all the responsibility of the family and got away from all the limelight for some time. But after her first book 'Mrs Funny Bones' which was appreciated by the readers.
Now, the actress has again in the headlines not because on cinema curtains but behind the scenes. Twinkle has taken the responsibility of her husband's film production.
In an interview with Navbharat Times, Twinkle has opened up about her relations with her family. Twinkle said that she is quite open with her family and children. Soon, Akshay movie is going to be released in theatre. Story plot revolves around a man who stands for the solution of women's menstruation and other major difficulties faced by women. A question asked in an interview to Twinkle, does she talk such issues with her children? She replied with yes and said Akshay also said that she is very open with her children.
The actress further added that as her age is increasing, she started feeling that she can not control things now. Whether it's children or husband or herself. That's the reason she has opened with her children in every way. Twinkle involve her children either in doing fun or cracking jokes with them. Because she found this is the best way to starts a conversation.
Twinkle further said that she started feeling that she could not control anything. Neither children, husband or herself. She is very open to her children and cracks jokes with them. As she found that it is the best way to start a conversation. She said that they never consider anything strange in her house. She also told that she is comfortable in talking everything like from sex to drugs. Twinkle further said that she and Khiladi have talked with their kids on every topic. Either it is homosexuality, alcohol, drugs or sex.
During her interview, she also said that she was recently talking with her son Aarav that in our country if a boy under 18 years is having sex will be seen as a crime. She also told to her son that if a 17-year-old boy and girl are having a sex, then the boy may be charged with rape case or may be punished.