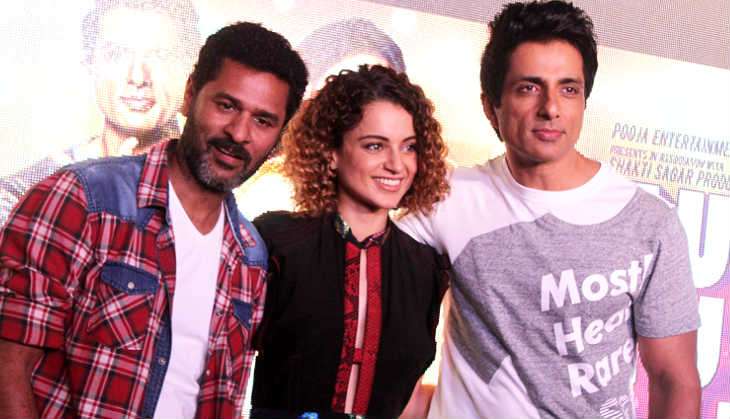 Kangana Ranaut is the second star friend to be enlisted by Sonu Sood for his debut production venture, Tutak Tutak Tutiya. While Shah Rukh Khan has lent his voice for the film's trailer, Kangana made a rare appearance at the film's music launch.
Kangana, who is currently shooting for Rangoon starring Shahid Kapoor and Saif Ali Khan, expressed her willingness to work with her friend Sonu Sood in a film too. "We have done one film earlier -- Ek Niranjan -- directed by Puri Jagannadh sir - in which Sonu played a baddie and had a very strong role. That is my one experience with him. It's very strange we have not worked together after that. God willing we will work together very soon."
While Sonu has tuned producer, Kangana does not seem to have any inclination to follow in his footsteps right away. "But, you never know," she laughs. "I think mujhe direction mein thoda-bahut interest hai; production mein itna nahi."
Tutak Tutak Tutiya stars Prabhu Deva alongside Sonu Sood and Kangana was unabashed in her praise for his talent. "The best thing about Prabhu sir's steps is that there is a lot of spontaneous masti-khori in it, which I really love. He is having so much fun while dancing. There is a lot of humour and quirkiness in the way he slides! I don't know if anybody can copy him. I completely love what he does but I can't possibly follow it."
-- Sourced from Ami Sheth, Bollywood News Service