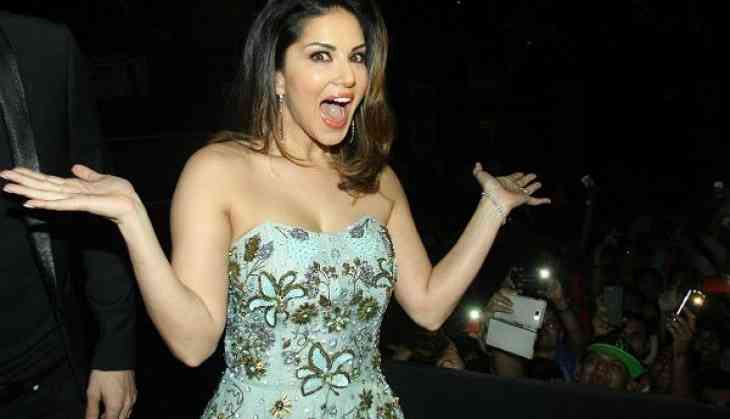 The trailer of the Bollywood film starring Bollywood actress Sunny Leone and Arbaaz Khan titled 'Tera Intezaar' got released today. Both the lead actors were present during the launch of the movie. Both the actors, on the event, talked about their thoughts on standing up on the National Anthem.
The Supreme Court gave out a declaration on standing up on the National Anthem and asked the Government to take a decission on the playing of the anthem in public places including that of cinema halls. When Sunny was asked about her views, she said, "I think patriotism is one of those emotions that come from within, it comes from the heart. Whatever the judgment is, I think you should stand for your National Anthem, I do."
Not only Sunny, Arbaaz too had some say on the matter. He was also present at the trailer launch and when asked about the same he said, "Irrespective of Supreme Court's decision that says that we do not need to stand up for National Anthem when played in theatre, I will always stand up for it. My mind is conditioned that way, it is a practice for me, so whenever I hear National Anthem, I will automatically stand up, no matter what, and it is in my headspace."
Check out the trailer of their upcoming film:
A lot of celebrities from the Entertainment industry gave out their views on the decission and tweeted about the same. Check out what they tweeted:
Correct... you sud do what ever u wish. I don't say play #NationalAnthem in theatres. I say, I will stand if it's played... where ever. Hope I am clear 😊🙏 https://t.co/SfRqvv8yyJ

— Annup Sonii (@Anupsonicp) October 26, 2017
'Where' d National Anthem shud play is another matter; but whenever or wherever it is played- GET UP & Respect it. From d Heart- Not Sleeve!

— Adnan Sami (@AdnanSamiLive) October 25, 2017
Sad to read jokes about our #NationalAnthem. But this is what happens when you aggressively enforce what should be a voluntary act of love.

— Apurva Asrani (@Apurvasrani) October 25, 2017
we have so many identities but when we stand up for our national anthem with love n reverence in that precious moment we are only Indians

— Javed Akhtar (@Javedakhtarjadu) October 25, 2017
The film also starrs Arbaaz Khan and Sunny Leone in the lead role. Not only them, the movie also starrs Sudha Chandran, Salil Ankola, Richa Sharma, Gauahar Khan, Hanif Noyda, Bhani Singh and Arya Babbar. The movie is a Raajeev Walia directorial and is all set to hit the silver screens on November 24.