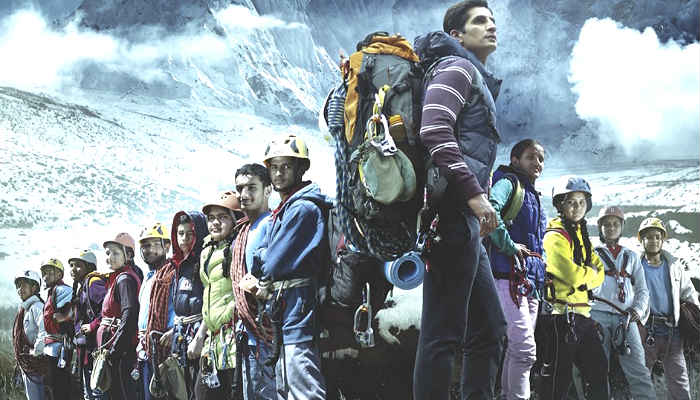 Rating: 1.5 stars (out of 5)
* Film revolves around 13 deaf children on a daring expedition* Tries to combine social relevance with adventure sports* Captivates as a project, fails as a film
It's puzzling, to say the least. A first-time director painstakingly trains 13 deaf, mute children and turns them into characters for his ambitious film. Understandably, this feat is used as the marketing hook ("real" deaf kids) - and not the fact that this director's name is Mahesh Bhatt.
He then designs a story to repeatedly hammer home one single point - that they are "differently abled", not "disabled". He chooses high altitudes, freezing temperatures, challenging conditions and the Himalayas as their environment.
He then employs able actors who are unable to emote, a technical crew unable to distinguish between day and night, and a script that would be far more respectful in a primary school textbook.
The premise clumsily tries to connect two of the filmmaker's primary passions: mountaineering and children. Somehow, the fate of mankind (and of a particular overzealous Hindi news channel) depends on a high-altitude expedition of 13 deaf children.
Unfortunately, the writers have infused this fairly inspirational plot with the following elements:
HERO
In keeping with the new trend of non-studio movies, this man is also the creative producer. Tall, chocolate-y and expressionless, he plays the role of a mountain search-and-rescue expert. He trains the children, glances lovingly at the kids' grieving schoolteacher, provides a badly recorded voiceover and is destined to save the day in the end. Only, he does not.
HEROINE
She is the perfectly groomed 'Pahaadi' girl waiting to be discovered by Subhash Ghai for his next project. As the kids' teacher, she is the one behind this bright idea of a four-day expedition. Though her solo purpose in life is to serve as part of a love triangle back at camp - stuck between the hero and the.
BEST FRIEND
The heroine's dead boyfriend's childhood buddy is also in love with our heroine. But he realizes early on that he is not as good-looking as the hero, and isn't the producer either. Hence, he spends most of his time battered and bruised in the hospital, passing sighs of unrequited love, often forgetting that the kids are on their own in the wilderness.
VILLAIN
She is a cross between Bindiya Naik (from Chak De! India) and Prem Chopra. She snorts, grunts, smirks and dismisses any signs of humanity in the movie. She takes her brief of breathing fire too seriously, and taunts with lines like
"Kids are catching on? Catches aren't enough. You need bowlers to win matches too." and

"Khaya nahi ragda toh kaise banega tagda?"
Naturally, she is forced to lead the expedition, gets injured, and (thankfully) spends the final part being comatose. Will the kids rescue her? You hope they drop her into a stream.
CLIMAX
Envisioned as a daring rescue mission in the violent rapids, it becomes an incoherent patch-up of disparate shots. It's impossible to tell who is swimming towards what, who is drowning, and why the heroine screams instructions to kids who can't hear her.
It's not surprising that the adults in this movie let the children down. Not for the first time, the nobility of intentions consistently overshadows the basics of filmmaking. It's almost tragic to see spirited kids give their heart and soul to be part of a story, only to be let down by their storyteller.