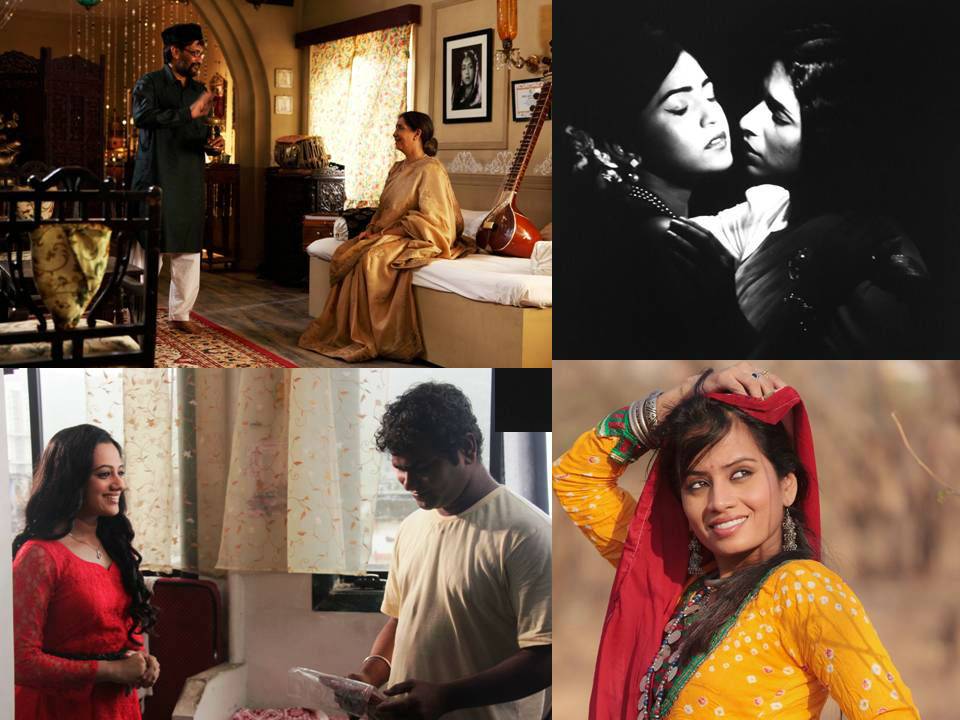 The format
An anthology of four films, directed by stalwarts of Marathi cinema
\'Bioscope\' brings alive literary characters from vernacular poetry
The synopses
Gajendra Ahire\'s love letter to Mirza Ghalib, Dil-e-Naadaan, is replete with a sense of tragic loss
Viju Mane\'s Ek Hota Kau tells the tale of a man \'cursed\' with a dark complexion
Girish Mohite\'s Bail sees a cotton farmer discovering the harsh truths of urbanisation
Ravi Jadhav\'s Mitraa is about a homosexual woman in the pre-Independence era
An anthology of four short films directed by four acclaimed Marathi filmmakers, each a cinematic representation of four famous pieces of poetry; the quaintly titled Bioscope begins with a prelude narrated by Gulzar. In a voice that could lend grace to even an item song, he sets the foundation: "Poems are bubbles in time. They charm and disappear, leaving behind faint moments of artistry."
Two legends long for one last hurrah
That these bubbles abruptly burst at their peak is a fact not lost upon the two ageing protagonists of Gajendra Ahire's melancholic Dil-e-Naadaan, based on Mirza Galib's ghazal of the same name. Perhaps the final remnants of a troupe that graced mehfils across the world, a classical singer (Neena Kulkarni) and a revered sarangi player (Suhas Palshikar) now sell almonds from their terrace to make a living.
There's still a regal air about them: their chatter is laced with denial, yet a resolute awareness that resists fate and forgotten stature.
Ahire directs his veteran actors as if they're on stage, allowing viewers to indulge the old couple over three acts. This film retains the maximum poetic reverberation of the four, unfurling in a single room decorated with glorious memories and instruments of a life gone by.
As intentionally grating as a loud crow
The second, Viju Mane's Ek Hota Kau, based on Kishore Kadam's poem, tells a kinetic tale about a man 'cursed' with a dark complexion.
Unlike Raanjhanaa, it explores the sweeter side of a one-sided inter-caste romance - complete with a Pandit father and pointed jabs at the boy's physicality.
Kushal Badrike excels in his portrayal of this lowly mechanic. Rain, powder and then, white cream are used to make obvious 'Fair and Lovely' metaphors, while jittery GoPro shots disrupt the repetition of ugly-crow epiphanies.
Despite natural supporting acts, its overwrought treatment reiterates the core importance of retaining simplicity as a stylistic choice.
One farmer, one struggle, one outcome
The same can't be said about Girish Mohite's Bail, based on Loknath Yashwant's poem, about an impoverished cotton farmer (a passionate Mangesh Desai) discovering the harsh truths of urbanisation and survival.
His condition is deeply relevant in today's India, but it's ironically the poem that nutshells his life into a convenient montage of decisions.
The film is peppered with his desperate monologues, providing a fleeting insight into tragic cause-and-effect lives of rural families.
Mohite underutilises the narrative device of a lonely Ox mourning his frustrated master; it becomes secondary to the farmer's theatrical moments of weakness.
The ancient origins of Section 377
The final film, Ravi Jadhav's Mitraa, based on Sandeep Khare's poem and Vijay Tendulkar's story, is the one that will pop into my mind when I look back at this anthology.
Veena Jamkar gives a compelling performance as Sumitra, a lesbian in pre-Independence India, struggling with feelings for her hostel roommate. "What is the colour of sadness?" ponders her childhood friend lyrically; a boy who has his heart broken by her reality.
Jadhav appropriately shoots this in stark shades of black and white around Victorian-era buildings, consciously highlighting her off-beat mannerisms and mental space.
He indulges with the narrative, bookending it with surreal imagery and a piano-heavy score, and unleashing characters that introspect aloud.
My only grouse is Jadhav's choice of pubescent flashbacks; it oversimplifies Sumitra's 'condition' into a cliche meant for family audiences. While these films are largely unrelated, each of them employs mentally fragile characters dealing with defining phases of their environments. At times, the same poems that inspire these films restrict them too.
Much like old-fashioned 'travelling cinema' bioscope shows, this serves up a variety that goes beyond genres; it casts anumbrella over the different aesthetics and moods of Marathi cinema.