The trailer of Te3n is out. And going by the first look, the film - which stars Amitabh Bachchan, Vidya Balan and Nawazuddin Siddiqui - looks set to be a gripping tale.
The film, directed by Ribhu Dasgupta, chronicles an old man's struggle to seek justice for his granddaughter, who lost her life in a kidnapping incident eight years ago.
While Bachchan plays the character of the grandfather on a quest, Vidya Balan plays the role of police officer Sarita Sarkar, who helps the old man get justice for the death of his granddaughter, Angela. The duo is joined by policeman-turned-priest Nawazuddin Siddiqui, who is connected to the murder.
The screenplay of the film is written by Suresh Nair, Ritesh Shah and Bijesh Jayarajan. Te3n is set for release on 20 May.
Watch the trailer of Te3n here:
Here are a few interesting observations about the trailer that you will agree with:
1. Vidya Balan, in her supercop avatar brings to mind the role played by Tabu in Drishyam. Even amid chaos, mysteries, emotions, the actress looks thoroughly composed and at ease.
2. Te3n looks like to be yet another film where Amitabh Bachchan will shine in the role of an aged man. The intensity in his character is sure to add to the thriller's appeal.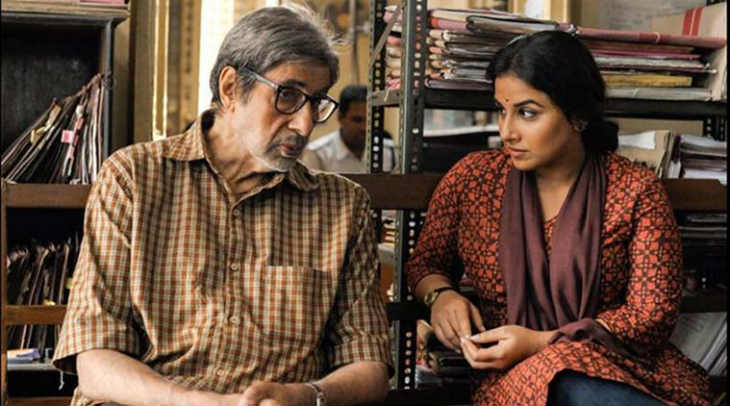 A film still
3. Despite being juxtaposed with Amitabh Bachchan and Vidya Balan - both powerful actors - Nawazuddin Siddiqui manages to hold on his own. He might just be the biggest twist in the story of Te3n.
4. Each frame of Te3n trailer bears the unmistakable stamp of Sujoy Ghosh. With Vidya Balan, the film's Kolkata setting and the murder mystery plot, the thriller is bound to remind viewers of Kahaani - and unwittingly fuel the anticipation for Kahaani 2.