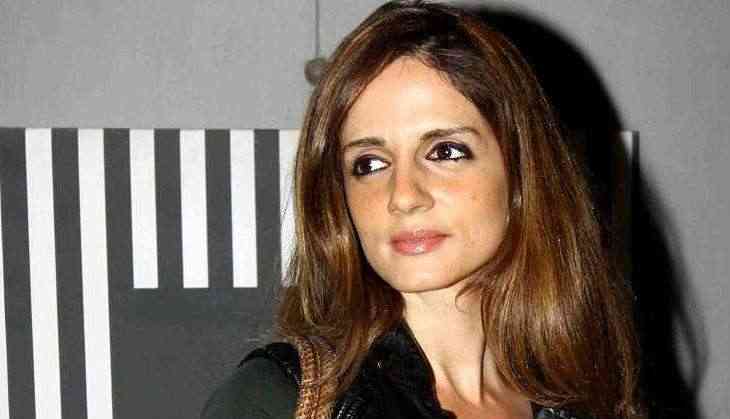 After the Maharashtra govt announced a night curfew in the state, celebrities Sussanne Khan, Guru Randhawa, Suresh Raina, and others were said to be booked for violating COVID-19 norms at a club in Andheri in Mumbai. It was said that hotel managers, hotel staff, and celebrities were arrested. Later, they were released on bail.
However, Sussanne Khan took to Instagram and clarified the news that was stating that she was arrested by Mumbai police at a club for violating COVID-19 norms.
She dismissed the news of her arrest by calling them incorrect and irresponsible.
Sussanne also extended her gratitude to Mumbai Police for their selfless service.
Taking to Instagram, Sussanne wrote, "A humble clarification: Last night I was at a close friend's birthday dinner & a few of us extended to the Dragon Fly Club at JW Marriott, Sahar. At 2.30 am the authorities entered the club. Whilst the club management and authorities were sorting things out, all the guests present were asked to wait for a period of three hours. We were finally allowed to leave at 6 am. Therefore, the speculations by parts of the media that there were arrests made are completely incorrect and also irresponsible."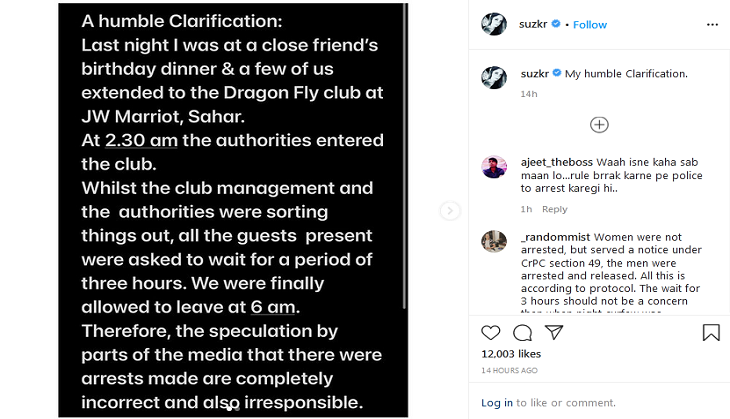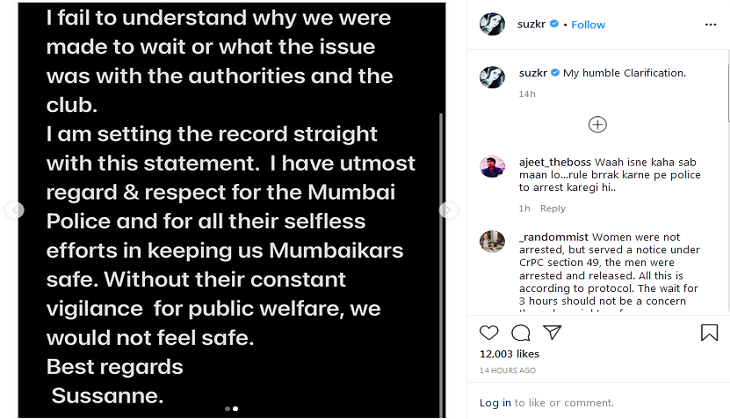 "I fail to understand why we were made to wait or what the issue was with the authorities and the club. I am setting the record straight with this statement. I have utmost regard & respect for the Mumbai Police and for all the selfless efforts in keeping us Mumbaikars safe. Without their constant vigilance for public welfare, we would not feel safe," Sussanne further said.
Earlier in the day, Guru Randhawa's team had also issued a statement saying that he deeply regrets the unintentional incident.
"Guru Randhawa, who had stepped out for dinner with close friends before returning back to Delhi the same morning, deeply regrets the unintentional incident that occurred last night. Unfortunately, he was not aware of local authorities' decision of night curfew but instantly conformed to all rules laid out by the government officials," read a statement issued on behalf of the singer by his management team.
Ahead of Christmas and New Year celebrations, the Maharashtra govt announced a seven-hour night curfew across all cities and municipal corporation areas in the state. The curfew from 11 pm to 6 am has been imposed on December 22, 2020, for 15 days until January 5, 2021.
Also Read: Flashback 2020: From COVID-19 to SSR death case; events that make 2020 a nightmare