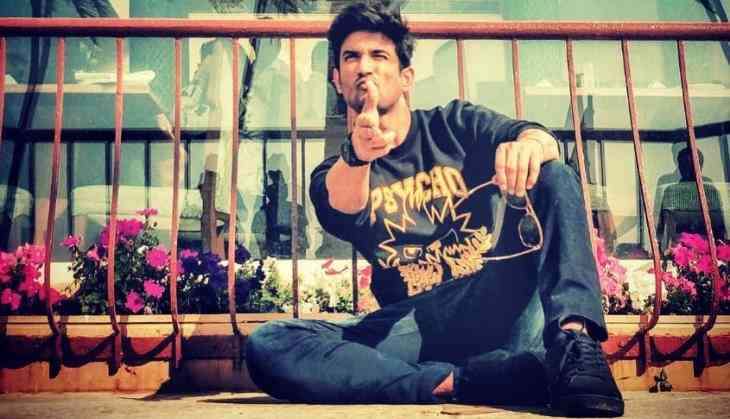 Sushant Singh Rajput's family announces SSR Foundation
Bollywood's one of the most talented actor Sushant Singh Rajput bid adieu to his family and his fans on 14th June after committing suicide at his Bandra house, Mumbai. The 34-year-old actor was truly an inspiration to his fan who looked forward to entering the film industry or those who were quite keen on scientific works. Now, after 13 days of his death the family has released a statement wherein they announced a foundation to support the young talents.
In their statement, they addressed Sushant as Gulshan who was talkative, free-spirited and an incredibly bright person. They further wrote that they will setup Sushant Singh Rajput Foundation (SSRF) to support the young talents in areas that were close to the actor's heart i.e science, cinema and sports.
The statement read, "The world's Sushant Singh Rajput was simply Gulshan to us. He was free-spirited, talkative and incredibly bright. He was curious about just everything. He dreamed without restraint, and chased those dreams with the heart of a lion. He smiled generously. He was the pride and inspiration of the family.
Also Read: This is what Deepika Padukone said when Karan Johar wanted to resign from MAMI
"His telescope was his most prized possession, through which he fondly gazed at the stars. We can't bring ourselves to accept that we wouldn't get to hear his easy laughs anymore. That we wouldn't see his sparkling eyes again. That we wouldn't hear his endless rants about science again. His loss has created a permanent, glaring void in the family that will never be filled."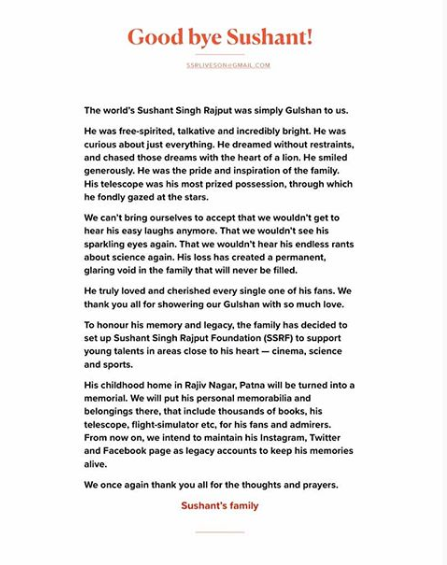 Sushant Singh Rajput's Family issues statement
The statement further read that Sushnat's childhood home in Rajiv Nagar, Patna will be turned into a memorial wherein they will keep all his belonging including books, his telescope, flight-simulator, etc, for his fans and admirers. Also, from now on they will be handling late actor's Instagram, Twitter and Facebook account as legacy accounts to keep his memories alive.
Sushant's family concluded their statement by thanking all his fans for their prayers and thoughts in this tough time.
Also Read: Sushant Singh Rajput's nephew pens heartwarming story to bid adieu to late actor [VIDEO]