Mastizaade is the kind of trash that makes anyone with half a brain want to curl up into a ball, hug a pillow and fall asleep in a puddle of tears. In fact, anything that makes stuff like Hate Story 3 (yes), Humshakals and Himmatwala look like real films.I lost my train of thought. What was I writing about, again?
Phantom Genre
I'm convinced that there's no such thing as a sex comedy. This is not a legitimate genre. When desi directors repeatedly give examples from "the West" like the American Pie or Hangover series, it only exposes their scrambled understanding of cinematic grammar. These are classic male buddy flicks - comedies that happen to treat sex as one of their many awkward set pieces. These phases account for perhaps the most memorable parts; they don't define the entire movie. They're funny and crass and shocking because of the everyday world they're rooted in.
They don't depend solely on bananas, breast implants and Tusshar Kapoor. They don't rely on Sunny Leone and timely controversies. And they certainly don't highlight the writers' complete lack of intellect, taste and maturity.
I don't like to believe that movies reflect their makers' souls. But in this case, the evidence is hard to ignore. I said 'hard' here, and I can already imagine them chuckling. If I say 'tough', they'll find a way to make an innuendo out of it. Oh, I said 'It' - Milap, calm down. (I said 'down' - and this paragraph is already his next script)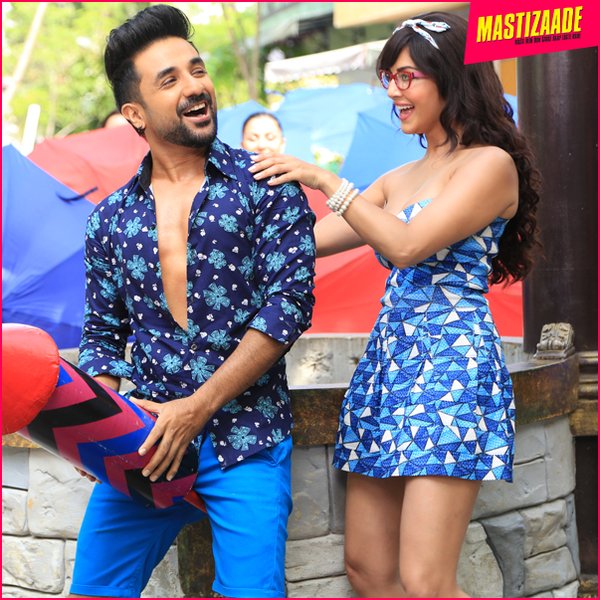 Gagging On Plots
It takes a special kind of talent to come up with a plot that imagines Tusshar Kapoor to be a desirable bachelor. A "story" that revolves around Vir Das and him infiltrating sex-addiction groups to bed two Sunny Leones named Laila and Lily Lele. Or Alcoholics Anonymous (AA) groups to seduce lollypop-sucking women. Or an obscenely busty bank manager named "Titli Booba" to make several 'deposit-open' puns. Or have men molest donkeys for anatomy-oriented gags. To top it all, the two guys are ad filmmakers, which explains why Man-Force condoms are the film's "pleasure partners". It's a wonder they didn't crash a disability home to make wheelchair-sex jokes.
Lurid Thai Tourism Commercial
Somehow, anyhow, they find their way to Thailand again - which confirms suspicions that it is based in the same deluded universe (and set, with similar actors) as Kya Kool Hai Hum 3 and every other pseudo-erotic exercise in tomfoolery that ends up on bikini-clad beaches. And if I see Suresh Menon in one more perverse vomit-inducing interpretation of homosexuality.sorry, I just burst a blood vessel. Where was I, again?
The content here isn't as offensive as the arrogant assumption that Indians deserve such content. Starlets and models aren't exploited here as much as the country's inherent sexually repressed shades. Such movies seem to be made by people who derive immense pleasure out of bad reviews. They come across as a bunch of horny giggling minions when confronted with a fart, burp or words like "duck", "dock" and "bell".
Disclaimers Kill
Ironically, the funniest part about this thing is the Freudian collaboration between the director and this government.
When Vir Das simulates thrusts into a white horse from behind, the ticker "Horse is shot abroad. No harm is caused. Prosthetics are used" flashes at the bottom. Ditto, when a sprawled cat (mandatory pussy pun) is shown on Skype (don't ask). Unfortunately, this disclaimer wasn't displayed when Suresh Menon kept polluting the screen with his moans and loved-up chest hair.
The problem with folks who throw their weight behind raunchy comedies is that they want to bankroll a state of mind. It becomes more about being bold just for the heck of it. It stops being a craft, and becomes just another shallow extension of a heated Twitter debate. They forget that what they're making is in direct conflict with their storytelling ambitions.
It therefore isn't farfetched to say that Milap Zaveri has now established himself as the Bhupendra Chaubey of filmmakers. Make of that what you will.