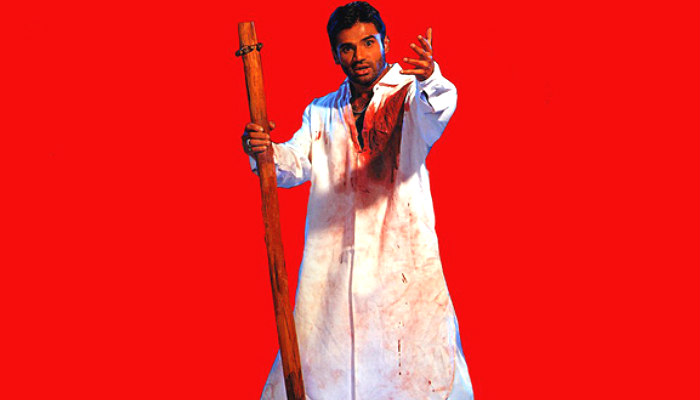 Since last week I wanted to share this bizarre action scene featuring actor Suniel Shetty with you all. Once you watch this #FlashBack video, you will remember exactly why Shetty is the Anna of Bollywood.
Yes, who else will smear red chilli powder all over his injured body, and smear more of it on his face (his eyes are miraculously chilli powder-free though) just so that he can produce violence-friendly anger. This particular 'action' sequence is from Bollywood film Aaghaaz (thank us later for introducing you to this film), which released in 2000 and starred Sushmita Sen alongside our Shetty Anna.
This is how the scene unfolds:
A pack of goons waving a wide variety of deadly-looking weapons are chasing Shetty and he leads them on a run through a maze of gullies. Along the way, a few goons drop out of the chase from exhaustion (Shetty wins points for his speed here) and our hero also gets some nasty cuts from the weapon-wielding goondas.
When he is about to collapse, he tries to hide in a tiny courtyard where a few women are crushing red chillies. The goonda gang finds its way into this house and finally corners him. This is where the scene turns bizarre and also this is when Shetty turns into Anna.
Also read: Flash back: When Selena Gomez's mujra rocked the MTV VMAs
He grabs hand-full of freshly-ground chilli powder and looks at the goons with a crazy look in his eyes. You and I are going to assume that he will throw it at the bad guys. But no, Shetty Anna smears his injured body with chilli powder and some more on his face, and lets out unearthly screams.
Looking at insane Anna is enough to terrify the bad guys and scared of spilling 'tabahi,' they run for for the hills.