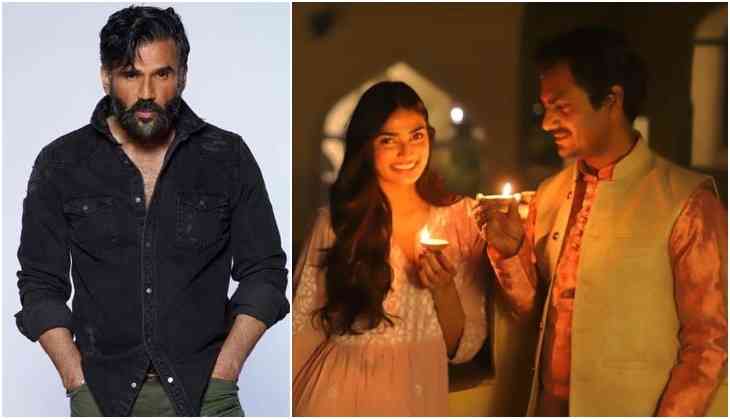 It looks like that actor Suniel Shetty has made himself into trouble and the actor has been accused for interfering in his daughter Athiya Shetty's next film. Athiya Shetty is doing a romantic-comedy with Nawazuddin Siddiqui called Motichoor Chaknachoor. The film is being directed by debutant director Deba Mitra Hasan.
However, producers of the film, Rajesh and Kiran Bhatia including director Deba have sent a public notice on 13th March with the concern of their advocates Ramesh and Kusum Jain. The notice actually is regarding "the only final authority and decision-making authority on every aspect and or/every project of M/s Woodpecker Movies Pvt Ltd."
According to a report of Mumbai Mirror, the notice went to clear a fact that Suniel Shetty has no right to interfere in the film. Neither he can try to get involved in the project even if it is finished. He can't take control in any aspect of the film, not in post-production or its marketing campaign.
According to the report, the notice reads, "Mr Suniel Shetty has no right, title and/or interest in the said film and has no capacity or any authority to either directly or indirectly discuss or take any decisions, negotiate, strategise or overlook the edit or in any manner interfere or be involved with the film Motichoor Chaknachoor or with its cast, crews, technical teams or coordinate with the studio involved with the film or its creative and marketing teams or post productions or any person connected or with the trade. If done so, it shall be considered as trespassing and breach of confidentiality at its own risk, cost and consequences,"
Well, that's really shocking and something new we have seen. Earlier also we have seen Bollywood stars have interfered in the part of filmmaking and especially in their kids' films. This will be the first time when any film producer has sent a notice to the parent to stay away during the process of filmmaking. However, there is no response from Suniel Shetty and his daughter Athiya Shetty side till now.
Also Read - Sonakshi Sinha kick-starts shooting for Dabangg 3, shares first look as Rajjo