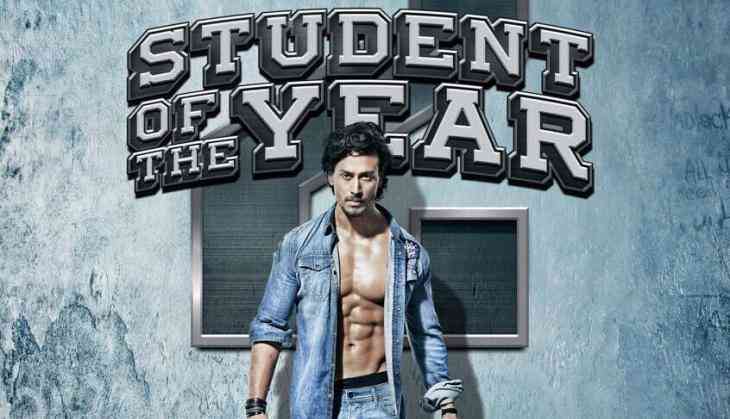 SOTY 2 release date announced; trollers targets KJo and Tiger Shroff, asks "which college's dress is this?"
Bollywood filmmaker Karan Johar recently announces the release date of his upcoming film Student of the Year 2 with a new poster of the film. The Bollywood actor Tiger Shroff is playing leading role in this film and now one poster has come out featuring Tiger Shroff in it.
In this poster, Tiger Shroff can be seen in denim blue open and front shirt with jeans. With this, he also is being seen with a black leather bag. The poster has the title of the film with its releasing date.
As soon poster came people started trolling Karan Johar and also giving replies to him. While looking at the posters mostly people are saying that Tiger is doing promotions of denim and he is looking like a model in this poster.
One of the users wrote, Why do our colleges don't have such students? Another user wrote, he is looking a goon better than a student. One more user wrote, he is looking like a warrior ready for war, not student ready for education.
Also Read - Mia Malkova's God, Sex and Truth released: RGV warns to see it with headphones; watch it here
Why do our colleges don't have such students? 😉😂

— Sitakshi Gupta (@Sitakshigupta) January 24, 2018
Student kam gunda zyada lag raha hai bc? 😂

— KHILJI ⚔🔥⚔🔥 (@InvincibleRVS) January 24, 2018
Hope for the best..by the way tiger isn't suited for the role of student at all..he is looking like a warrior instead of a student

— Aashutosh (@bugg_bag) January 25, 2018
U ruined my dream film SOTY...
No one can replace @Varun_dvn @aliaa08 🙂

— monami. (@Monami_tzznim) January 24, 2018
Kon se collage ki dress hai ye bhai, नही मतलब पब्लिक तो चूतिया ही है, है ना ! BC#Bollywood @karanjohar @iTIGERSHROFF pic.twitter.com/emDiqUmNSH

— Viralhub_live (@Viralhub_live) January 25, 2018
Whyyyyyy ! What school or college this student goes to ? College steroid 🤔

— Juno (@junoSB15) January 25, 2018
Poster pe se to "student of the year" nahi "villion of the year" lag raha hey. Koi student kabhi aise dikhte hey kya?

— Aliasgar Samniwala (@Aliasgar_72) January 25, 2018
Also Read - Murder actor Ashmit Patel to marry this Bigg Boss ex-contestant and Salman Khan's actress
Well, this is to notice that Tiger Shroff starrer Student of the year 2 is a sequel to 2012 released Karan Johar directorial film Student of the year. The film that was released in 2012 was a grand launch for actors like Varun Dhawan, Sidharth Malhotra, and Alia Bhatt. Now the sequel to the film is releasing on 23rd November 2018.