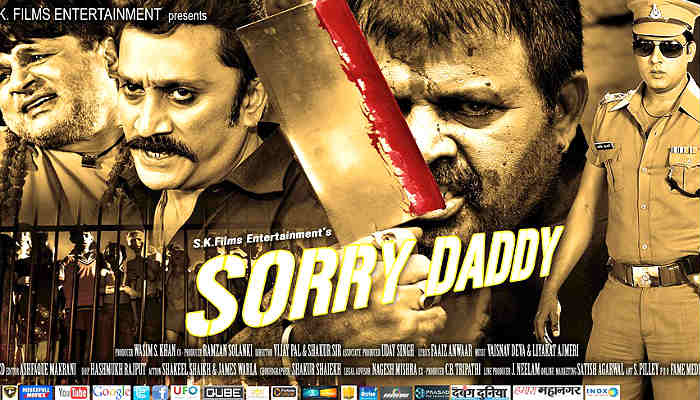 When a film's title is Sorry Daddy, the 'red-carpet premiere' at an obscure deserted mall in a spooky Mumbai suburb is bound to captivate more than the actual movie.
The Recipe Of Cult
The hero is an honest cop named Ravi Sharma (Shameem Khan). Every few scenes, the chap looks up at his deceased wife's photograph, the camera zooms onto his face, an all-male choir belts out a tragic theme, and he curls his lips with unprecedented emotion.
You'd think his wife was murdered by vengeful criminals. But she falls down the staircase instead. I suspect this was deliberate because she couldn't handle the subtlety of his facial expressions.
This was much after she gave birth to a daughter. She had declared her pregnancy by coyly telling him:
"Aapke wajood ka ansh jo mere wajood se judd gaya hai." (Now that a portion of your existence has merged with mine.)
When he isn't grieving like Rajesh Khanna in Aa Ab Laut Chalein, Ravi busts a hooch factory and signs off with:
"Sharab ke saath tum sab ka kebab bana dunga! (I'll turn you all into kebabs with this alcohol!)
His 8-year old daughter, meanwhile, becomes obsessed with a 6-year old boy in school. This boy has an alcoholic, abusive father, who is once shown vomiting out rum specks in great detail. Not surprisingly, he is accidentally killed by his long-suffering wife. This woman is arrested and kept behind bars in a white sari.
One Movie, Many Genres
So this kid suddenly becomes a part of another film altogether - a demonized, mutant product of the union between Slumdog Millionaire and Mardaani.
He is sucked into a begging racket run by some righteous politician, who is incidentally shown brutally chopping a kid's leg off outside his plastic lair in Film City. Inspector Ravi must defy the laws of acting, physics, chemistry, motion, emotion and films in general to save this kid. After all, he wants his daughter to share her room with a boy who has seen alcoholism, domestic abuse, death, hunger, poverty, corruption, severed limbs and exploitation.
A Glorified Family Video Project
This film is absurd. It looks to have been made by a small-time Jogeshwari gangster looking to teach his community about the importance of children. Raza Murad's distinctive baritone spouts moral science lessons every few scenes. One of the begging kingpins is shown praying to yesteryear actor Jeevan's portrait.
The iconic 'gunda' Razzak Khan pops into the film in yellow pants to provide comic relief. Raghuvir Yadav is shown as a 'montage' baba singing away at a construction site. Not one line is in sync, making for a surreal audiovisual experience. The Avengers theme serves as the score when one of the many incompetent actors delivers sermons about values.
But all this is mere decoration for legendary Inspector Ravi Sharma. Down the years, his performance will become the base for the ultimate extreme drinking game. Many livers will be destroyed, but at least Kamaal R. Khan's Deshdrohi will finally have a worthy opponent.