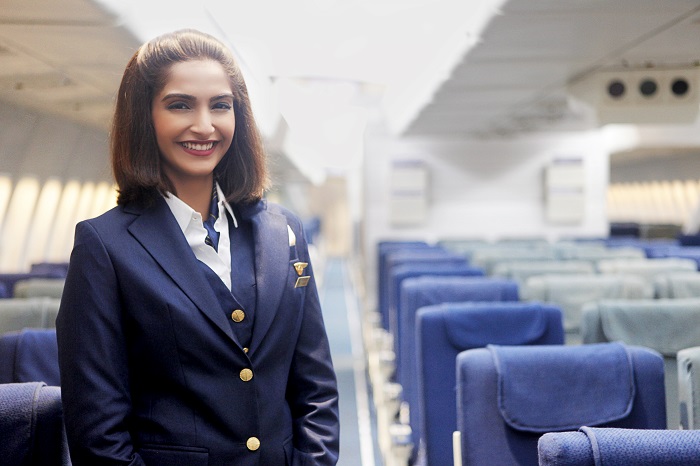 Based on the true story of Neerja Bhanot, the slain Pan-Am purser who saved lives on a hijacked aircraft in Karachi, 1986.
Director Ram Madhvani\'s second film
A riveting triumph of dramatic storytelling
Rating: 4 stars
Midway through Neerja, I raised my hand with bated breath. I wanted to use the restroom. It took me a few seconds to realize that I didn't need to ask permission from the four terrorists on screen. I was in a deceptively cold cinema hall, not on Pan Am Flight 73.
This was perhaps also because my flight attendant Neerja Bhanot (Sonam Kapoor, at her finest) - a brave, frightened young woman - had just popped into the airplane loo. She needed time to compose herself - perhaps to think about her mollycoddling parents, brothers, a terminated abusive marriage, and how it may have happened for a reason. The proverbial life is flashing before her eyes, but in coherent slow motion.
Maybe it led to this night, where she found herself in charge of 358 innocent passengers. And maybe she will find strength from the phase that almost destroyed her - like internalizing the heat of a fiery sun.
No 23-year old girl deserves to be here. But perhaps Miss Bhanot was destined to. Nobody else could have protected us so far.
I hope she comes out soon. That aggressive terrorist (there's always an aggressor - think Barkhad Abdi in Captain Phillips or Ali Saam in Argo - and another two who're not sure why they're doing this) is getting pissed. He wants to demolish that door, just like her monster ex-husband used to. He looks panicky. If he kills her, whom do we turn to?
We?
By now, I had begun to care for those strange faces - people I didn't know only an hour ago. Those three scared kids (one of whom will hopefully quell his fears and grow up to be a pilot), the spunky old woman who has had to see her NRI grandson murdered, the radio engineer who can't reveal his identity, and dozens of others who have no business staring death in the face. I feel a little angry that the pilots abandoned their aircraft, even though they only followed protocol.
I look around the dark hall; these faces won't be strange anymore if we are taken hostage by some nutcase today. I'm part of this stifling environment too - one that doesn't allow you to switch off or look away. I don't even want to take notes. I fantasize about leaping at the most careless of the four; perhaps I can play reckless hero and save them all.
But the human mind is different in strife. After the initial shock and denial, there comes an intermediate stage of acceptance - and in rare cases - a kneejerk sense of calm. Miss Bhanot seemed to have reached this stage earlier than others. Her brain told her to control things because she hated the last time she had lost control.
Even when that inevitable song - Hindi cinema's favourite break mechanism - attempts to calm things down, I fret about all the mothers and children who're going to lose each other. Just a glimpse of Shabana Azmi's (Neerja's mother) clouded face, her moody impulses, her empty consolatory voice when her journalist husband (the terrific Yogendra Tiku) struggles to keep his head on the phone, Neerja's future partner (Shekhar Ravjiani - of Vishal-Shekhar fame) staring mournfully at her face on a billboard - one can sense all this in a solitary tear rolling down Miss Kapoor's cheek.
The last time I felt so trapped and antsy and claustrophobic, I was a teenager trying to watch a movie called 'Let's Talk'. A pre-Munnabhai Boman Irani and Maia Katra were horrifyingly unstable faces of a dissolving marriage. Five years later, when Irani appeared as Dean Asthana, I swallowed hard: that psychopath husband is a funny man?
It's no coincidence that director Ram Madhvani, one of India's most renowned ad filmmakers (remember the Happy Dent commercial?), is behind 'Let's Talk' and 'Neerja' - his only two full-length projects. He isn't good for my emotional health. Yet, I couldn't be happier to come away a complete mess.
As a reviewer, it's common practice to go home and temper your immediate opinions. One tries to analyze the intangible, and often gets caught up being loyal to the duty of "criticism". What comes out on paper is then a studied, joy-killing dissection of personal expression.
But Neerja isn't a movie I want to look back on and think about. I suspect it's meant to be felt - and reacted to - in real time. It doesn't matter if I discover tiny mistakes later. I feel shaken, and moved, and inspired right now. And occasionally, the first feeling while walking out the hall is the only analysis required, and the only instinct that matters.