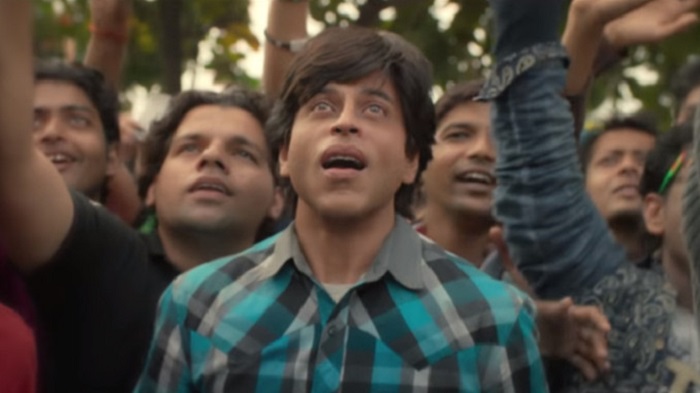 Shah Rukh Khan launched the theatrical trailer of Fan at a mega event at Yash Raj Film Studios in Mumbai - before a crowd of 4,000 fans. King Khan entertained both fans and journalists with his witty answers and also delivered some of his iconic dialogues. He also refuted claims that Fan is nothing like 1993 psychotic thriller Darr - where he played the character of an obsessed lover.
"I was very fortunate to do a fantastic film like Darr with Yash Chopra, but Fan is not a psychotic thriller, I am not running behind a girl in this film".
"Fan is about innocence, when you are young you to tend to hope that your star or idol will love you back in the manner you love them. But sometimes, when things don't turn out like you want them to, it disturbs you. Fan is a story of a young boy like this who meets his idol".
Also Read: Fan: Why is everyone losing their minds over this Shah Rukh Khan film? Tu Nahin Samjhega!
King Khan also revealed that Fan is not a typical commercial potboiler and will be a different experience for each viewer.
"I have tried to do something different in Fan because people think I am getting rather repetitive with my acting. Maneesh had a clear vision in his mind about Fan, so I don't take any credit for being a part of film which is actually very different."
Shah Rukh Khan also revealed that despite being a larger than life personality, he tries to keep things simple when he approaches a role.
"I just try to keep people happy. I try to act according to the demand of the character and approach it the way a layman would. Yes some of them are larger than life characters and fortunately or unfortunately, after being in the industry for over 25 years, I have become larger than life. I like to keep things simple."
Also Read: Shah Rukh Khan's Fan plot revealed; when admiration turns into dark obsession
Fan releases on 15 April 2016.