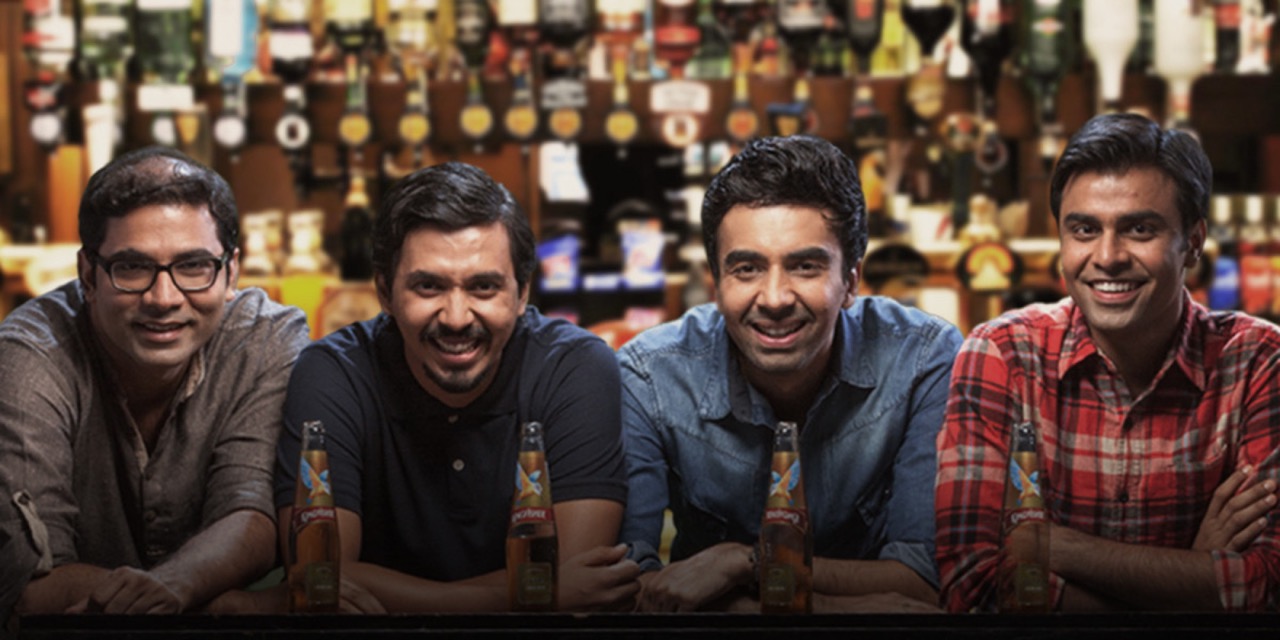 Pitchers is a web-series about four young Mumbai-based professionals who quit their jobs to become entrepreneurs
Over 5 episodes, they navigate their way through start-up conclaves, potential investors, copyright infringements and relationships
Midway through The Viral Fever's 5-episode web-series, a character named Ravi Ram Rastogi (Gopal Dutt) meets our four budding entrepreneurs Naveen (Naveen Kasturia), Yogi (Arunabh Kumar), Jitu (Jitendra Kumar) and Mandal (Abhay Mahajan) at an investors' conclave. By now, the chaps have quit their 9-to-5 jobs to achieve immortality.
They've already begun dropping Wolf of Wall Street and Social Network references, anecdotes and cult-defining metaphors ("Tu beer hai"), and sweeping phrases of start-up geniuses from Rahul Yadav to Sachin Bansal.
It's obvious that their identities and dreams are 21st century mini-derivations, not entirely driven by raw pioneering and originality ("Not like we're Jobs or Gates"); they'd rather design an app for Apple than create the next Apple.
Rastogi, meanwhile, is pitching for his 12th startup in 15 years.
He's a fossil playing in a field dominated by youth and innovation. By now, it probably doesn't even matter how mediocre his idea is. He's on autopilot, addicted to the chase, the promise of the quest. Actors who've begun to quantify their struggles ("12 auditions today, 8 tomorrow"), writers who count scripts instead of bettering them ("22 scripts, none made") - if you speak to them, it's clear that success has been recalibrated to the duration of their process rather than qualitative results.
They've begun to mistake relentless perseverance to be a measure of competence. While watching the four 'pitchers' navigate their way through confident cliches, I couldn't quite shake off this niggling feeling.
By not concentrating on leader Naveen's actual vision, by being intentionally vague about the start-up's actual form, the makers end up presenting a generic, familiar ensemble tale of Mumbai-specific conflicts.
Yes, Jitu is a coder, and yes, Yogi handles sales, but other than the fact that they possess diametrically opposite backgrounds and personalities - Jitu has Udaan daddy issues, and Yogi excels in expressionless outbursts (Arunabh Kumar, TVF founder, is ironically the weakest actor here) - their professional evolution within this scary new start-up world is left unexplored.
A few technical terms are used in increasingly self-aware tones, but what is it that Naveen feels so strongly about? Does his product define him? Are they really good enough to be handed a blank cheque?
They've embraced idealism, but unlike their nerdy counterparts in the TV series Silicon Valley, their struggles are far more regional and generic in nature; disapproving parents, machinations of arranged marriages, ambiguous girlfriends and financial strain form a major part of their journey.
Founder Arunabh Kumar strives to create a show based on a culture very close to his heart; TVF, his own 'start-up', is quite the success story, a breeding ground of excellent writers and next-gen Indian web content.
But Pitchers is actually more of an unbranded underdog series - one that revels in smug chemistry, big-city friendships, frustrations and last-gasp "we will rise" speeches.
This is not a bad thing at all; it's still original, relevant and quirky, and far better than the regressive television content in this country. More importantly, it's a largely authentic representation of today's restless 'Facebook' generation.
It starts a bit shaky - the first episode resembles an extended TVF Qtiyapa skit - but the show gains rhythm once Mandal, the mandatory annoying simpleton, forces his way into the one-dimensional group.
I'm not quite convinced by the way Naveen's relationship with his girlfriend Shreya (Maanvi Gagroo) is handled. The idea is clearly to depict them as this brash, modern, career-first couple, but their initial banter seems a bit pretentious.
It's a testament to their acting chops - especially Gagroo's ability to recognise crucial change-of-mood moments - that they still manage to be relatable in very little screen time. The supporting characters - Rajesh Sharma as a shady investor, Jaimini Pathak as Naveen's passive-aggressive boss, Aakanksha Thakur as Jitu's wife and writer Biswapati Sarkar as venture capitalist Puneet - remind us that we're not watching another cocky Versova parody.
Director Amit Golani learns on the job, but needs to work on his abrupt sound transitions and match cuts.
Pitchers is, in a way, still a startup, yet to acquire full form. Apart from the massive advantage of bypassing some nonsensical censorship laws, the digital medium allows it to grow and acquire its own relative standard in our minds. I'd be an investor - only because I know that the beta testing phase is over; things will only evolve from here on.
This is perhaps the beginning of a future.