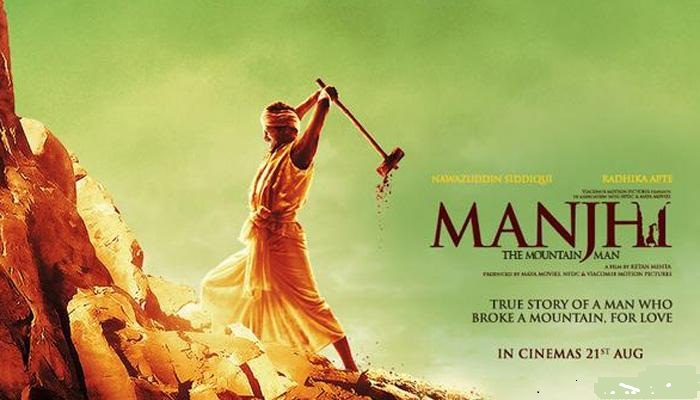 True story of Dashrath Manjhi, who took 22 years to break a hill and connect two villages
At two hours, Ketan Mehta\'s storytelling is stilted, formulaic and rushed
Nawazuddin recreates Manjhi\'s madness, but is undone by tonal inconsistencies
Craft lacks nuance, fails to translate a phenomenal life from paper to screen
Year after year, I feel a tinge of apprehension when the 'Based On A True Story' slate appears on Indian screens. And year after year, I walk out of halls convinced that these extraordinary lives deserve better than being quick-spun in mainstream factory machines. Audiovisual mediums have the widest reach - a privilege that is routinely misconstrued as the creative license to kill, deafen and compromise.
Indian biopic narratives continue to lack consistency and balance
This Great Indian Biopic Syndrome strikes again with Manjhi - serial offender Ketan Mehta's third consecutive interpretation of real events after the forgettable Rang Rasiya and the immensely forgettable Mangal Pandey.
To be fair, Mehta is far from lazy. In fact, he's a bit too passionate. Perhaps he needs to reconsider the size of his canvas, and not be this visionary without a cause. He has repeatedly chosen distinctly Indian pieces of the history puzzle - lives too profuse and ambiguous to be nut-shelled into two-hour moving pictures.
But Dashrath Manjhi's is a universal and astounding tale of human spirit and fortitude; his existence in the destitute village of Gehlour in Bihar is almost incidental. Manjhi's young wife died because medical aid took too long to arrive. So for 22 years, the man chipped away - with a chisel and hammer - at the hill that separated his village from civilisation. His madness was driven by grief, and along the way, his grief sustained his madness.
But it also became about the apathy of several governments and their systems, and about a village and its demons. Whatever angle one chooses to look at it from, it always comes down to one man and his mountain. Just like it came down to a man and his island in Cast Away, and a man and his canyon in 127 Hours. Even The Shawshank Redemption was really about a man and his wall; with prison life used as a sleight-of-hand trick.
Unfortunately, it isn't only the authenticity and milieu Mehta struggles with; it's the narrative, a storytelling sense - one that weaves ideas into a coherent formation of phases. Writers and editors must not simply comply; they must make their voices heard if entire eras are to be displayed on screen. It is here that I suspect, and fear, that the film's basics aren't sound enough.
Mehta overpopulates a solitary tale with artificiality and formula
As expected, he takes certain liberties to make Manjhi's tale watchable. To begin with, Radhika Apte is miscast as his wife. When we see her on screen now, it's with an awareness of who she is; she's not the unknown face of Badlapur anymore. If you close your eyes and listen, the dialect - the despondency - doesn't quite match her gait. Also, Mehta's obsession with poetic imagery and aesthetics - irrespective of tonal relevance - makes their love story look like a stretched romantic play. They're either making love in mud, or glowing in amorous positions lit by ethereal slivers of moonlight.
Manjhi's environment needed a lived-in grittiness, a silence and unglamorous presence, to sync with Nawazuddin's physicality. But Mehta chooses a '70s potboiler plot with ominous faces parading as villains, sheriffs, vengeful dacoits, shootouts and the works. This portion seems like an ill-fitting genre movie from another era - a sub-standard Gangs Of Wasseypur, given that familiar faces (Tigmanshu Dhulia, Pankaj Tripathi) populate this drama.
Editing is choppy, the score is ordinary and time lapses too abrupt
The inconsistencies are glaring: after a young Manjhi beats up goons to protect his wife, they kill his friends' wives and conveniently disappear for years. Later, when the filmmakers feel that the hill-hammering becomes too monotonous, they reappear. There's no real sense of time passing; every second scene fades to black, and the score is dreadfully dated. The writing glides over background events, and there's no indication of his cult growing. The good touches - Manjhi's poignant scene with PM Indira Gandhi, and his sojourn on foot to Delhi - are lost in a mist of emotional discontinuity and tacky effects.
Ironically, the film's more watchable parts have Manjhi struggling during a drought in his abandoned village; long stretches of uneasy quiet punctuate his desperate search for water.
It's here that we get a perverse insight into the magnitude of his lunacy. He could have been equally adamant by banging his head against bureaucratic walls (like Mumbai's Gour Hari Das), but instead chose to bang his head against a hill.
Despite Nawazuddin's inherent eccentricities, there's an uncanny awareness here of his motivations, of why he exists. Love has little to do with it. He had no intention of becoming a legend. Perhaps filmmakers here should take note, and restrain themselves from glorifying a life that's already glorious.