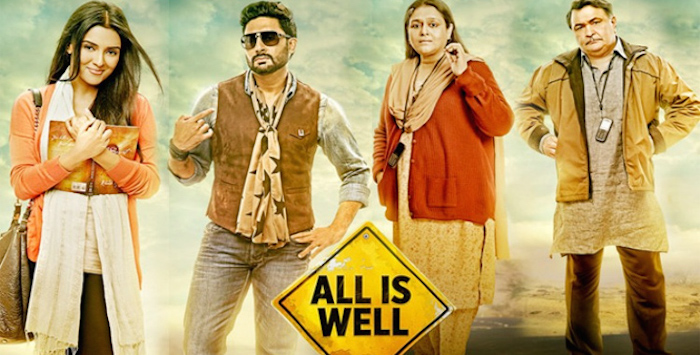 Film is about an NRI-returned son, and his struggle to rescue his bitter parents from debt and estrangement
Designed as a screwball comedy of errors, film is too muddled to be sincere
Except for Mohammed Zeeshan Ayub, all actors seem to be on autopilot
Tries to deliver a noble message, but is too contrived to make an impact
Have you noticed how Indian mainstream movies - irrespective of genre, content or intent - use changing frame rates more than dialogues (or actors, props and script) to depict various emotions? For instance, the moment the heroine changes her mind and falls in love is of great significance; she is made to smile or blush gently at 400 fps. If the self-explanatory score isn't already obvious enough, hero offers his hand and heart at 350 fps. Most dramatic family showdowns, facial twitches and epiphanies happen at around 700 fps, and phones, teardrops, cars and humans often fall at 1000 fps (the slowest of slow motions, without emotions). Screwball comedies, and films that generally overshoot their budgets and running lengths, tend to triple the pace of action to depict Charlie Chaplinsque slapstick - even if it is something as mundane as dogs cantering across the frame. If you must laugh, watching faster motion distorts the mind just enough to evoke giggles.
Casting Abhishek Bachchan isn't a smart move anymore
All Is Well, directed by Umesh Shukla (of OMG! Oh My God fame), uses all this and more, while sermonising about the increasing generation gap between Indian parents and their Abhishek Bachchans. I say Abhishek Bachchans because, lately, it's more like most cinematic NRI sons play Abhishek Bachchan, and flimsy NRI daughters play Katrina Kaif, and not vice versa. Their ambiguous accents and generally puzzled faces contribute to this widespread habit of typecasting. The problem with All Is Well is that the writers get stuck somewhere between an Abhijat Joshi 'All izz Well' phrase and Aneez Bazmee's brand of Welcome (or Ready, or Thank You) absurdity. In fact, the film could have done wonders if it had been treated as a quaint little black-and-white silent film, with slates and cartoonish sound effects. Inder (Bachchan) is an India hater; there's a ring to that. He is also a marriage-hater who has settled in Thailand as a struggling musician, in order to get away from his feuding parents and dark childhood. Rishi Kapoor, who plays his weak-bladdered father, is a very unlikeable character. Most of this rather farfetched story relies on how much we sympathise with his situation. That's impossible to do - because flashbacks show hints of domestic violence and anger issues against his wife. Supriya Pathak, with her perpetual lost-puppy look, makes for the face of Alzheimer's - a disease that is supposed to go unrecognised by her family till it's too late. Though she does a good job in context of Bollywood's interpretation of mental disability, I can tell you - from experiences of encountering family members with this disease - that authenticity is a virtue lost on our filmmakers. The father is, of course, deep in debt with a loan shark - played by Mohammed Zeeshan Ayub Khan, the only guy who recognises that he is a cliché, and plays along with glee. The script is contrived enough to take us through the mountains of Himachal Pradesh and Haryana for no conceivable reason, and to come across plenty of Sardarjis, dialects, loud baraats, loud funerals, cows, stolen cars and.all that. In short, everyone speaks too much and too loudly. And somewhere in between, Asin plays a love interest that does nothing but accompany the family, or get kidnapped. She's the voice of Abhishek's conscience, and you know that, at some point, she will get nosy and meddle into his family affairs. Her speech to him holds some meaning - perhaps the most sincere message this film tries to deliver - which Baghban delivered a decade ago in a more consistent and manipulative fashion. Yes, children shouldn't desert their parents, and yes, parents shouldn't take their kids for granted, or try to live their own dreams through them. But this film unwittingly delivers a rather uncomfortable message that if goodwill and peace must exist between two bickering generations, it's the children that end up compromising on their own dreams. It's a harsh reality, but delivered in flimsy fashion. Some of it is funny. But if I have to connect to what it's trying to say, I have to relate to the parents when they're hapless, or relate to Bachchan when he's grumpy. I do not. And that's when it becomes just another formulaic comedy.