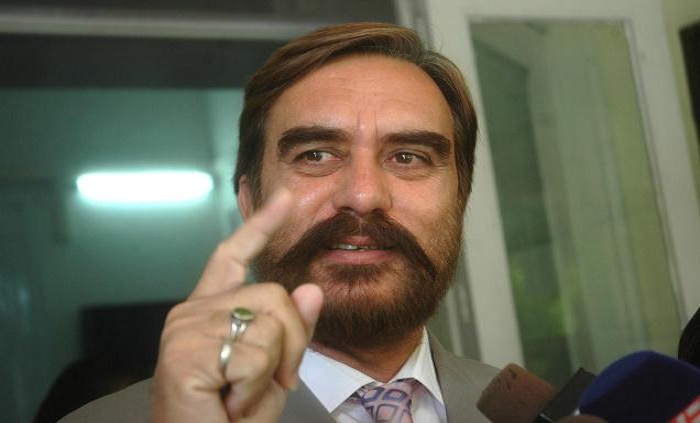 Call her Geeta or Guddi, a 23-year-old Indian girl is in search of her roots for last 15 years. After the success of Bollywood film Bajrangi Bhaijaan, the people in search of her family hope for a reunion for the girl. Living in Edhi Foundation, a Pakistani woman shelter home, the speech and hearing impaired girl is all hopeful to come back to her homeland.
Catch talked to Pakistani social activist and former Pakistani Federal Human Rights Minister Ansar Burney who is deeply involved with the case. Burney talks about the girl, her situation and how far did the Indian government help his efforts.
Q. What made you take over the case?
Some three years ago, I came to know that there was an Indian girl in a shelter home at Karachi. And when I came to know that the girl has been there for the last 13 years, I thought that even though it is good to give a shelter to someone but it is even necessary to find the family and reunite the missing child. Therefore, I visited the girl who I refer to as Guddi at the shelter home.
It was only last month when I paid her a visit and she told me that she remembers the number C-193. She says she is from Jharkhand or Telangana. It is a possibility that one of her parents is from Jharkhand and other from Telangana.
She came to Pakistan on Samjhauta Express.
Q. How can you be so sure about the girl boarding the Samjhauta Express. Were any travel documents found?
No travel documents were found with the girl and she was taken under the custody of Lahore Police. She was found crying near the Samjhauta Express train at the Wagah border. When police questioned her, she was unable to talk and hear. Therefore, the Pakistani police took her to some shelter home. They sent her to Karachi later. And then, only three years ago, I came to know of her.
Q. When you visited India in 2012, what kind of cooperation did you receive from Indian bureaucracy?
I didn't receive any reply from them. I didn't receive any help. I distributed pictures and videos of the girl in India, back in October 2012. I approached some media houses and NGOs. However, it has been three years since I have been waiting for a response. But after getting no response, I thought of visiting India again and starting afresh.
Q. What is are the recent developments in the case? Apart from External Foreign Affairs Minister Sushma Swaraj and director Kabir Khan, actor Salman Khan taking notice of the case, what actual action has been done?
I am thankful to these people that they have acted on the case. Ms Swaraj has sent an envoy to the girl. However, I am coming back to India in September. I have a meeting with the Dalai Lama and I believe I would be able to track the girl's family.
Q. What are the things that you would be discussing with His Holiness Dalai Lama in the meet?
Peace in the region and human dignity. I have full respect for the boundaries but we'll have to respect the human dignity and humanity, with people lying at both sides of the countries.
Q. You have been associated with the character of Bajrangi Bhaijaan played by Salman Khan in the film. Do you think the film is inspired by your work or is it just a mere coincidence?
I think so (over the film being inspired by his works). Since I have been working for the last three years, searching for the family of this girl. Also, the story of the film is exactly the same. And therefore I am very grateful to Salman Khan, Kabir Khan and other people associated with the film.
Q. Don't you think it is easy to send the girl to a child welfare institution in India, so that they could search for her family, since it is difficult to communicate from that side of the wall? Did you ever try doing this?
I am not sure about others, but yes, I did try many a times to contact Indian NGOs. But unfortunately, I got no response. I have also written letters to the Indian High Commission along with the picture of Guddi, but all in vain.
Q. You said that after the success of the film in both Pakistan and India, things might get better for Guddi. Do you think cinema at large actually influences people in taking up social welfare causes?
Media can always play a vital role. Be it cinema, television, print or any other form. And I am hoping that when I'll arrive in India, the media will be with me.
Q. What is the situation of Guddi now?
She is good but she is not ready to stay in the shelter home. She has even tried to run away several times. She wants to meet her family and go back to her homeland.
Q. What is your plan B if God forbid Guddi is unable to reunite with her family?
I have surely thought on the same lines. I have an idea. We'll try and send her back to India to some shelter home there. And we'll be with that institution and the Government of India to search for her family.
After assuring that she is fine there, we can take her to places in India, say Jharkhand or Telengana, so that she could identify her place. We'll send her to Indian High Commission so that they could do some good for her.
Q. There is also another emerging case where a Pakistani woman has been caught from Attari border with no travel documents. How are you going to tackle the issue?
I am not aware about the nationality of the woman yet. She is under interrogation now. And if she is from Pakistan, we'll definitely search for her family in Karachi first. Then, after assuring that she is innocent, we would help in getting her released and bring her back to Pakistan. However, if she is not innocent, then she should face justice. We have no sympathy for ardent criminals.