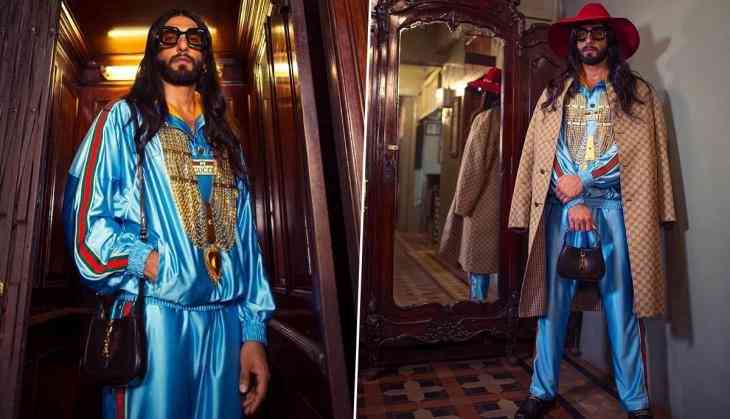 It's mid-week and all that the fashion police can talk about is Ranveer Singh new long hair look. Now, if you are one of them who is yet to see the actor's unconventional self, you are at the right place.
Ranveer Singh put out images of himself donning a sky-blue Gucci tracksuit along with a trench coat placed right on his shoulders. The oversized tinted sunglasses and black Jackie 1961 handbag that Ranveer carried in the photos are inviting attention.
The bollywood actor, who looks good on almost anything he wears, has effortlessly carried off the long hair look too. There is no denying the fact that this could be one of Ranveer's best looks thus far. You can hardly draw a distinction from the images if it is Ranveer or the Italian fashion designer, Alessandro Michele himself.
Sharing the posts, superstar Ranveer Singh wrote, "Alessandro, my beloved. @gucci @alessandro_michele #GucciBeloved #GucciJackie1961 (sic)." Arjun Kapoor, Tiger Shroff, Zoya Akhtar, Alia Bhatt, Pooja Hegde and several other Bollywood celebrities gave a big thumbs up to his new look.
The actor deserves the recognition for making quirky and OTT-style statements trendy with his wacky fashion tastes.
However, Ranveer's recent images on his official Instagram handle have become fodder for meme makers. The actor's eccentric style has always been a much debatable subject and netizens did not miss this chance to create some hilarious memes.
Some users have also compared his look to Alauddin Khalji, the role he played in Padmaavat.
Check out the best memes here:
Captain Jack Sparrow + Jesus Christ = Ranveer Singh 😁#RanveerSingh #JackSparrow pic.twitter.com/bCp7VDomF0

— [email protected] (@SAMTHEBESTEST_) June 30, 2021
First day in office after lockdown pic.twitter.com/5z3vpommUz

— Godman Chikna (@Madan_Chikna) June 30, 2021
#RanveerSingh
"Deepika buys jewelleries and clothes for her"

Ranveer singh: pic.twitter.com/Erfwc3qOhw

— 𝐆𝐚𝐮𝐫𝐚𝐯 𝐮𝐩𝐫𝐞𝐭𝐢 (@UpretiOfficial) June 30, 2021
If flirting is dressing formally than I am Ranveer Singh! pic.twitter.com/lEZOi49zuC

— Krunal Modi (@modikrunal157) June 30, 2021
How would khilji look like in 21st Century??

Here it is - 😂😭#RanveerSingh pic.twitter.com/4kbByAVTwr

— Akshayfanclub4 (@akshayfanclub4) June 30, 2021
Me on Monday morning looking at my Saturday night adventures... 😅😂🤣#RanveerSingh #Gucci #upperBALCONY pic.twitter.com/msWXgXRXOh

— Upper Balcony 💙 (@UpperBalcony) June 30, 2021
*Me reserving seat for my Frnds in General compartment*🚂#RanveerSingh pic.twitter.com/Q5jeNxy7JL

— Tweetera🐦 (@DoctorrSays) June 30, 2021
When you traveling in bus "suddenly driver break dava de"#RanveerSingh pic.twitter.com/KEjYKQ2k56

— Pranjul Sharma🐥 (@SharmaaJie) June 30, 2021
When u r at home alone 🧟‍♂️
Ranveer singh pic.twitter.com/cBEUWjdqHV

— 🦩 (@_look_within) June 30, 2021
Crush: Mujhe wo ladke pasand h jinka dressing sense acha ho.
Me: next day#RanveerSingh pic.twitter.com/glJMSryReR

— Shivam Pratap Singh (@Shivampratap018) June 30, 2021
Yes or No, what do you think about Ranveer Singh's new long hair look?
Also Read: Kangana Ranaut responds to Taapsee Pannu's comment calling her 'irrelevant'
Also Read: Here's how Akshay Kumar reacted when Katrina Kaif wanted to tie him rakhi