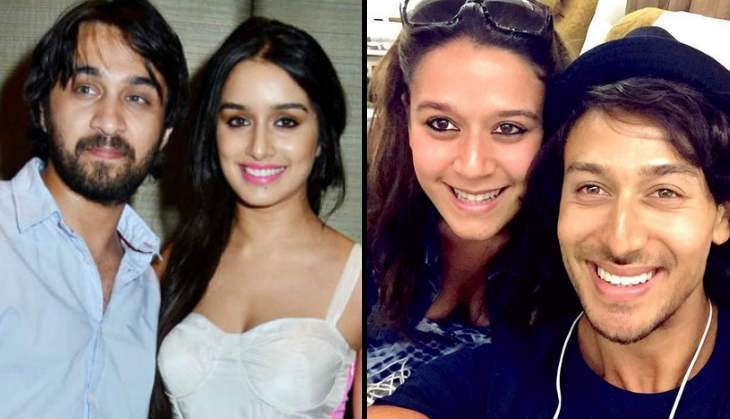 Krishna Shroff, Tiger Shroff's sister
Tiger and I are grateful to have each other in our lives so every day is special for us. On Raksha Bandhan, I put a tika on Tiger's forehead, and then I tie a rakhi and feed him mithai.
I do expect a return gift. He always surprises me -- last year he bought me an iPhone 6. I am not a materialistic person but since I love travelling, I would like to get a ticket to some place this year.
Tiger has always been a lot more like mom (Ayesha Shroff) and I've always been a lot more like dad, but recently, I'm seeing a lot of similarities between dad (Jackie Shroff) and Tiger. The most memorable thing Tiger has done for me -- he gave me his entire first signing amount to blow it up on shopping.
Tiger Shroff, Krishna's brother
Krishna is not only my sister but she is also my best friend!
Raksha Bandhan is one of my favourite festivals. Krishna always has my back and is the person I trust the most. This year I've ordered a very pretty evil eye bracelet for her and I'm excited about gifting it.
Arbaaz Khan, Alvira and Arpita's brother
We celebrate this lovely festival every year together but unfortunately this year I am shooting in Hyderabad, so I will wish Alvira and Arpita. We will meet up when I return to Mumbai. I do give my sisters gifts but I would not like to discuss them.
Sunaina Roshan, Hrithik Roshan's sister
Raksha Bandhan is a tradition with Hrithik and me. Depending on his schedule, we meet up, and I put a tikka, tie a rakhi, do an aarti and feed him some mithai. Hrithik loves all mithais -- kaju katri, motichoor laddos and pedas are his favourite, but he just takes a small bite, that's it! Earlier, I would make gulab jamuns for him and he would just love them. I also tie a rakhi to my chacha's son Ishan.
Regarding gifts, Hrithik always keeps them a secret, like last year he gave me a watch. This year I am waiting to see what he's going to present me!
Siddhant Kapoor, Shraddha Kapoor's brother
Till my sister Shraddha got busy, we celebrated Raksha Bandhan together. Unfortunately she's not in Mumbai this year as she's shooting in Cape Town but we will make sure to take out some time and celebrate it. Shraddha puts a tika, ties a rakhi, does an aarti ... And demands her loot. Shraddha usually gets me chocolates and motichoor laddoos because we both love them. We usually eat at home order food from Gajalee etc.
Last year, I presented Shraddha with different paintings of her films. She was extremely touched and happy. This year, I still haven't decided my gift. But everything we do for each other is memorable.
Luv Sinha, Sonakshi Sinha's brother
We celebrate Raksha Bandhan with great fanfare... All our relatives come with my cousins and, believe me, it's a full house. Sonakshi, Kush and I go through the proper ritual -- she puts a tika, ties rakhi, does an aarti and feeds us mithai.
We don't take her blessings because we are elder to her. This year I haven't decided what to gift her as yet but we do give Sonakshi some good present.
Farah Khan, Sajid Khan and Sajid Nadiadwala's sister
Luckily, I am in town for Raksha Bandhan this year unlike last year when I was shooting in some part of the world. This time it's special because we will have two celebrations -- my kids will also celebrate. For my children, it's going to be a modern Raksha Bandhan as my daughters Diva and Anya will tie a rakhi to my son Czar, and Czar will do so vice versa . I believe girls should also protect their brothers. Czar loves reading I will buy him some books as his gift.
This year, I have tied rakhi early to Sajid Nadiadwala, my rakhi brother since 23 years, as he's leaving for Chicago. I do the entire ritual and yes he thoroughly embarrasses me by giving me a hugh gaddi of money as a return gift ... Quite unlike my brother Sajid Khan who would give me a 50 paisa coin every year and say, "Jaa, ganne ka juice pee le."
Raksha Bandhan with my brother Sajid is a houseful affair with Zoya (Akhtar) and Farhan and other cousins coming over. I take some laddoos as Sajid loves them. In fact, Zoya and I complain about Farhan because he also does not give us anything. He says instead, "I am giving my blessing to you both, na!"
This year, I will ask Sajid to treat us all to a good lunch.
Sajid Nadiadwala, Farah Khan's brother
Farah tied rakhi to me early as I am going to Chicago. We had a great lunch at home though she made me eat diet food. Her face brightens up when I give her the gaddi of money... She only brings the rakhi, no mithai as she is a kanjoos (laughs). According to her, brothers should give everything. She made me her rakhi brother as soon as she met me in 1995.
Sajid Khan, Farah Khan's brother
All my sisters come home, and we have real good fun chatting on Raksha Bandhan. It's a full house with Farah, Zoya, three cousin sisters and nine rakhi sisters! Earlier, I would give them Rs 5000 each, but now I buy them perfumes.
I buy 15-20 perfume bottles of different brands and keep them on the table; and ask the sisters to take whichever they want. We all look forward to this day because we are all together.
Riddhima Kapoor Sahni, Ranbir Kapoor's sister
During our childhood, we didn't have a holiday on Raksha Bandhan so both Ranbir and I would wake up early and perform the rituals. My mother (actress Neetu Singh) would buy me a toy as a return gift.
After my marriage, things have changed since I now live in Delhi.
I usually send a rakhi for Ranbir to my parents who make sure he gets it wherever he's shooting. Last month, we celebrated my mom's birthday and the family spent a lot of quality time together. This Raksha Bandhan, since my parents are travelling and I am in Delhi, our plans are still undecided.
Ranbir is a generous brother. After he signed his first movie, he bought me lots of gifts.
-- Sourced from Heena Agarwal, Bollywood News Service