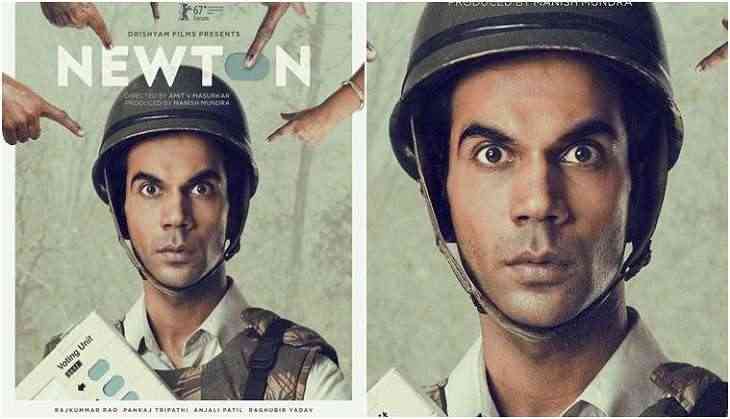 Rajkumar's film won best film award at Hong Kong Film Festival
Rajkumar Rao's upcoming film Newton which is directed by Amit Masurkar has been winning various honours in different festivals so far. The film was premiered in the Young Cinema Competition category.
Now at the Hong Kong film festival, it managed to impressed the jury. It won the best film award at the festival.
The jury awarded the film "For the intelligent and human presentation of a political situation in a country. The film balances the humour, disillusion and – against all odds – a steadfast belief in the meaning of democracy"
Masurkar says, "We are delighted to win the Jury Prize at the 41st Hong Kong International Film Festival! It's one of the oldest and most prestigious film festivals in Asia and will help us get an audience in that part of the world". Newton is Amit V Masurkar's second film after the sleeper hit, Sulemani Keeda in 2014.
Starring Rajkummar Rao in the titular role, Newton features a stellar cast which includes AnjaliPatil, PankajTripathi and RaghubirYadav. Rajkummar immediately took to twitter to say,"After #Berlinale win, another feather in #Newton's cap."
Manish Mundra, who has produced the film, said, "With each milestone, we come closer to the film's India release this summer -- can't wait to present Newton to our Indian audiences!"
Earlier the film was screened at 67th Berlin International Film Festival 2017 and it also won the CICAE Art Cinema Award.
The film is a political black comedy and the story revolves around one fateful election day in central India. Rajkumar plays the title character, Newton, a rookie clerk on election duty in a conflict-ridden jungle of Chhattisgarh, and who tries his best to conduct free and fair voting despite the apathy of security forces and the looming fear of an attack by Maoist rebels.