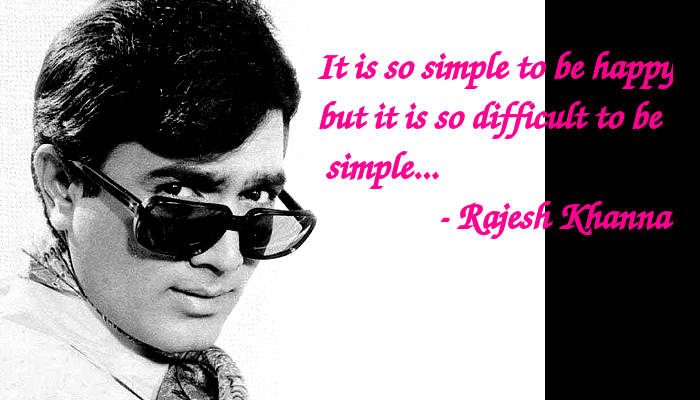 The late Rajesh Khanna and his daughter Twinkle Khanna share a birthday on December 29. Find out how well you know the 70s superstar and his star daughter.
1. Apart from
Aradhana
, which was Rajesh Khanna's other super-hit in 1969?
a. Do Raaste
b. Kati Patang
c. The Train
d. Sachha Jhutha
2. Who was Rajesh Khanna's heroine in Haathi Mere Saathi (1971)?
a. Babita
b. Moushumi Chaterjee
c. Nanda
d. Tanuja
3. Who was Twinkle Khanna's hero in her debut film
Barsaat
(1995)?
a. Akshay Kumar
b. Bobby Deol
d. Sanjay Kapoor
4. In which film did Twinkle co-star with Salman Khan?
a. Baadshah
b. International Khiladi
c. Jab Pyaar Kisise Hota Hai
d. Jurm
5. Who was the leading actress in first Rajesh Khanna's Bollywood film?
a. Waheeda Rehman
b. Farida Jalal
c. Indrani Mukherjee
d. Sharmila Tagore
6. How many Bollywood songs did Rajesh Khanna sing himself?
a. 14
b. 6
c. 10
d. 5
7. Which film of Rajesh Khanna was not a part of his 15 consecutive solo hit films between 1969-71?
a. Doli
b. Khamoshi
c. Hum Dono
d. Nazrana
8. Which was Rajesh Khanna's debut television serial?
a. Aapne Parai
b. K for Kishore
c. Bhabhima
d. Raghukul Reet Sada Chali Aayi
9. In which film did Akshay Kumar act opposite Twinkle Khanna?
a. Jodi No. 1
b. Mela
c. Zulmi
d. Chal Mere bhai
10. What is the name of Twinkle Khanna's interior design store?
a. R House
b. The Charcoal Project
c. The White Window
d. Mrs Funny Bones
Correct Answers
1. Do Raaste
2. Tanuja
3. Bobby Deol
4. Jab Pyaar Kisise Hota Hai
5. Indrani Mukherjee
6. 10
7. Nazrana
8. Aapne Parai
9. Zulmi
10. The White Window
Rate yourself
All correct: Excellent
6 right answers: Good
4 right answers: Average
3 right answer or less: Below average
-- Bollywood News Service