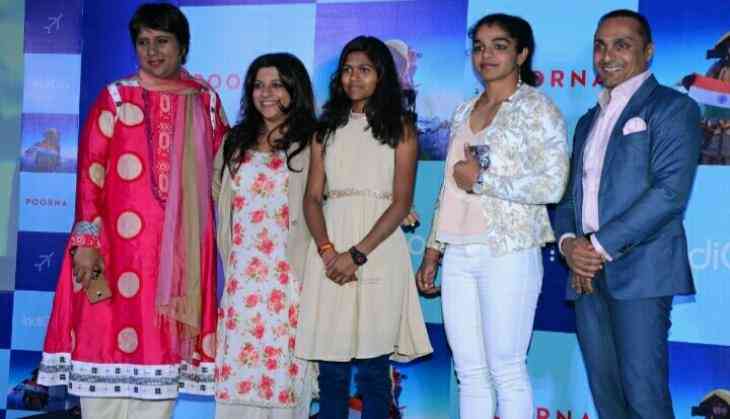 Rahul Bose is taking 'Poorna' to greater heights with every passing day. He conducted a panel discussion whose theme was "Ladkiyan Kuch Bhi Kar Sakti Hain" and had four distinguished women personalities, namely, Zoya Akhtar, Barkha Dutt, Sakshi Malik and Poorna Malavath talk about their inspirational journeys and the struggles they faced to achieve their dreams.
Rahul Bose was seen moderating the event and the ladies enthused everyone with their individual journeys, the difficulties they faced, the social stigmas they fought and eventually triumphed and achieved their dreams against all odds, proving that "Ladkiyan Kuch Bhi Kar Sakti Hain."
The actor was motivated on hearing their brave stories and shared, "Hearing the incredible journeys of Zoya, Barkha, Sakshi and Poorna was truly a learning experience and understanding of how women on top get out there to show the world what they are capable of!'
This was the first time we witnessed the four women achievers on the same stage and the interaction highlighted the contribution and achievements of women, in spite of being faced with innumerable challenges.
The discussion created a warm, motivational environment to encourage women to dream big and have a never-give-up attitude in order to accomplish them.
'Poorna' is a remarkable story of the youngest girl to climb Mount Everest at the age of 13, who dared to dream and had the courage to achieve her goals no matter what difficulty came her way. She truly believed that "Ladkiyan Kuch Bhi Kar Sakti Hain" and proved it with her actions. The promos and songs of the film are already garnering positive response and the movie is much awaited.
Directed by Rahul Bose, Produced by Rahul Bose Productions, Raay Media Pvt Ltd and Co-produced by Amit Patni, 'Poorna' is slated to release on 31 March 2017.