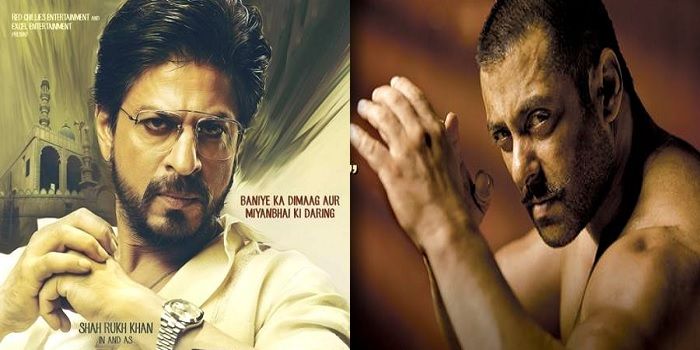 The year 2015 was not a great year for Bollywood in terms of economics as it saw a considerable drop in the total net Box-Office collection. The industry witnessed merely 3 blockbusters in the year, namely Tanu Weds Manu Returns, Baahubali and Bajrangi Bhaijaan, whereas most of the biggies failed to stand up to the expectations.
2016 is undoubtedly the year of clashes with films like Airlift and Kya Kool Hai Hum 3 battling it out at the Box-Office in January, Jagga Jasoos and Housefull 3 clashing in June, Shivaay and Ae Dil Hai Mushkil locking horns this Diwali.
Also Read: Raees is very commercial yet realistic, reveals Shah Rukh Khan
However, the biggest clash of the year is between Salman Khan's Sultan and Shah Rukh Khan's Raees in Eid this year. While many want the clash to happen, in reality the clash is suicidal for the film industry for these five reasons:
1. Two superstars on a single day
Salman Khan and Shah Rukh Khan are two of India's biggest superstars and their films come with a minimum guarantee of opening at unbelievable numbers in the opening weekend. While individually the films have potential to rake in over Rs 100 crore in its opening weekend, the clash will restrict the collections to 65 crore each.
2. Exhibitors laugh, distributors cry
While the clash is a win-win situation for the exhibitors (theatre owners) as most of the shows would run packed houses, the distributors (YRF for Sultan) might entail losses just like 90 percent of the people distributing Dilwale had to suffer.
Also Read: Shah Rukh Khan just confirmed the sequel to Ra.One, but he has a busy year ahead of him
3. Comfort zone?
Both Salman Khan and Shah Rukh Khan have stepped out of their comfort zone for Sultan and Raees, and both the films have generated a lot of buzz with the first look and teaser. Even if both the films carry an extraordinary word of mouth, it would be difficult for the two to make it to the list of top grossing Bollywood films.
Also Read: #CatchExclusive: Salman Khan's Sultan female lead to be announced in New Year
4. Can two big films make it side by side? Nay
One would like to believe that two big films can release simultaneously with the example of how both Lagaan and Gaddar succeeded despite clashing. But very few know that Gaddar had dented the collections of Lagaan considerably. While Gaddar went on to collect over Rs 70 crore, Lagaan couldn't rake in even 50 percent of that. Don't you think Lagaan would have done better monetarily if it had a solo release?
5. Good film succeeds, bad one falls flat
We all would want a good film to do well and a bad film to suffer. However, the industry has some minimal expectations from a film starring superstar. If Raees and Sultan clash, and either of two do not meet expectations of the audiences, there is a huge possibility that the films will be declared flops. A solo release would at-least ensure record breaking collections over the weekend, which would put a few distributors in the safety zone.
Also Read: From Prem to Bajrangi Bhaijaan; Is there any character the Sultan of Bollywood cannot essay?
What do you think? Should Raees and Sultan clash at Eid next year?