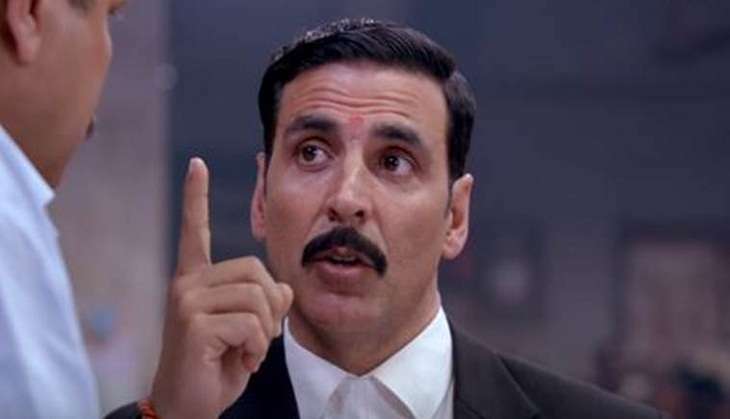 Perhaps the most successful of actors today, Akshay Kumar is gearing up for the release of Jolly LLB 2 says he is still not sure of what works at the Box-Office and gives credit to most of his success to pure luck.
You have some good films coming up, at least they look great on paper....
You know you never know if they are great or not, unless they get released. Everybody sets out to do a great movie. Some scripts look great on paper but they fall flat in box office. After all these years here, you know that there is no fixed formula. Haven't we seen some great projects not really working in the end? 'Kamaal ki story hai lekin release hua toh koi nahi aaya yaar dekhne.'. No one can predict anything about a film, especially us who are right in the middle of it. I believe that films run because of good script, hard work and loads of luck. You could have the best of projects in your hand, but if you are not lucky it won't work.
I would disagree there. A good script sense like you have, does help a lot.....
I try to do different things. I want to play different characters, simply because I get totally bored doing the same things. That's why I try to finish off a film within three months. I do 3-4 films a year. After 3 months, the film starts getting on my nerve. Same people same set up. But once it's done, you do miss the good time you had on the sets. I started Toilet Ek Prem Katha in December last year and it's already 95 per cent complete. In February I will have just about 8 days to give to the film and after that it's all complete. That's the fun of it.
Lately you seem to be mostly doing films with a bit of a message....
I make commercial cinema. There is a message but it won't be in your face. Sometimes it is hidden, sometimes in the backdrop, it is up to the audience if they want to take it or leave it. I am not forcing them with anything. It is not preaching anything. The youth of today don't want to learn anything from you, they want to experience it all by themselves. Even my children are saying, dad you don't know. (laughing). Let them experience things on their own and come to their own conclusions.
A movie like Jolly LLB, where a lot of scenes are set in the courtroom, there is a danger of sacrificing reality for the sake of entertainment.....
The court scenes are pretty authentic in Jolly LLB. It doesn't have those typical filmi courts, where a person goes screaming 'Haazir Ho...' types. This is actually a court. We have been careful about the kind of talking they do, the kind of words they use. The director Subhash Kapoor, as you must be knowing was a political journalist. He's very well versed with this kind of set up and lingo. On personal level, I am a North Indian, so this lingo comes easy to me.
And you get once again to show off your comedy skills....
Oh I did that in Housefull 3 too. It was mad fun. After Airlift and Rustom, I got bored of serious films. I wanted to do something light, nahi toh paagal ho jaayega. I don't want to take myself too seriously. I know that actors go mad when they continue playing serious roles and it starts affecting them. They start taking themselves too seriously. I want to stay what I am. Mujhe inn sab ke chakkar me paagal nahi hona.
You have been using twitter quite effectively with your videos. Your latest on requesting for an app for donations for soldiers went viral...
I say what I want to say. Nobody can twist my words. It was around five in the morning when I thought why not make a video for a pertinent topic like this. I do a lot for the soldiers, because my father was in the army. But not everybody has the access to do charity, even if they want to. I have had people telling me, it is so easy for you but what about us? Thats when it struck me that why not ask for an app which will make sure that the money donated goes direct to the bank accounts of the widows or the families of the soldiers. I am sure there will be thousands of people who will come forward to help, if they are assured that the money will go to the intended recepient. At least this way, that soldier on the border will be at peace that if anything happens to him, his family will be taken care of. He will know that apart from whatever the government does, there are 1.25 billion people whose backing he can get. Someone rightfully suggested that they should give donors tax rebate.
It is a good thing that you are using your celebrity status for social causes....
I don't know about celebrity status, if it helps or not. Even before I got into films, I used to go to work out in Versova. I would watch people taking the dump on the beach and I would go to them and start telling them not to do this. Look at this (pointing at the Juhu beach in front of his office), nobody comes here to spoil the beach. I only see lovers standing and kissing. That is no problem. They have no place to say and do what they want. I feel nice when I see lovers on the beach. It is better than watching the fights happening on television. I am totally cool with the kissing etc that happens on the beach. When you watch a Hollywood film, you see two actors kissing and the audience goes, awww....so cute. Isn't it the same thing here too? Spending time with the person you love is definitely better than train jalao, taxi jalao, strike pe jao kind of time pass that people do.