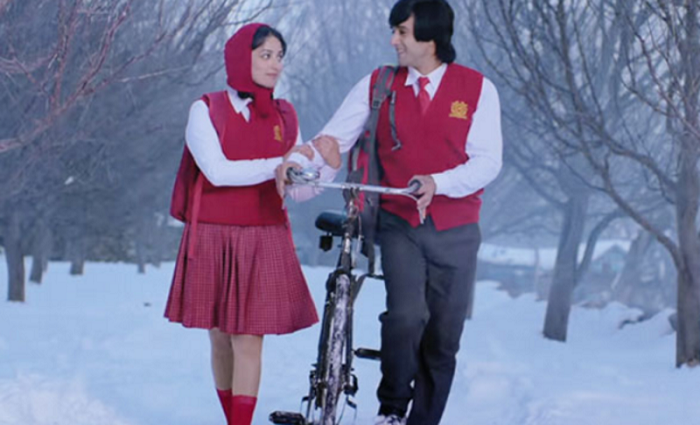 Divya Khosla Kumar\'s second directorial venture after Yaariyan (2014)
A musical love triangle set with its roots in Himachal Pradesh
Caters to an audience that is yet to discover Hollywood
One Star
Sanam Re is yet another candy-floss, rose-tinted interpretation of Riverdale and its most famous love triangle. Pulkit Samrat (Mini-Salman) plays Archie, Yami Gautam (Why?) is Betty, and Urvashi Rautela embodies the Indian idea of Veronica. Let's just say it's not surprising that her next Hindi film is 'Great Grand Masti'.
Unfortunately, the scales tilt from occasionally cute/juvenile to downright laughable when plot devices like heart transplants pop out of nowhere and serious-looking doctors declare, "We are ready. All we need is a heart." That could just be the single-line review of the film too.
Schizophrenic film where anything goes
This isn't all that surprising; Sanam Re switches genres as abruptly as Chelsea FC replaces its managers. The filmmaker is clearly a dewy-eyed admirer of picture-perfect frames, and a big fan of everyone from Bhansali to Basu to Imtiaz Ali to the Bhatts. Each portion is thematically inspired, albeit in a stage-playish, amateur, low-budget way. Every locality looks like a lavish set - a giant dollhouse presented to diehard romantics.
The Shimla (Tanakpur here) flashbacks and sincere kiddie parts use the symmetrical Barfi and Black template, down to the score and colour schemes. Present-day Mumbai is limited to yet another representation of caricatured corporate slavery; IndiaBulls towers are invariably these symbols of boss-powered repression. An initial 9-to-5 montage is Tamasha-driven.
Also Read: Here's how we think Yami Gautam - Pulkit Samrat's Sanam Re will perform at the Box Office
Suddenly, the writer finds an inane way to reach a yoga camp in Canada (because T-Series probably have a tourism tie-up). Here, it goes from an Arijit Singh-crooning erotic drama (Veronica needs to be seduced to procure an important office contract) to Milap Zaveri-styled random sex jokes. The story then moves back to Shimla or whatever it's called, for some more pining, mourning, poetic heartache and snow-capped sunsets. Between Fitoor and Sanam Re this week, a child will have seen enough snow to wonder if love ever happens away from pure mountainous air.
Manoj Joshi serves as comic relief, hamming it up with bad diction and grammatically wrong Shakespeare quotes. A Parsi gentleman overdoes the 'deekras and deekris', a Maharastrian bai is made to sound like a fisherwoman, and Kenyan tribal music materializes when an African man is shown on screen. It's Caricature Central - like visiting a British pensioner's representation of the Third World.
There are also radically different songs every few scenes, lest you forget who the producers are. Not to mention their rather familiar habit of recycling old label hits (Tum Bin, Yaariyan) to score new material.
Also Read: Fitoor Movie Review: It is an exotic body with a paper heart
There are the odd scattered sweet moments.
"Won't you meet her?" a mother asks schoolboy Archie before he leaves his small town to pursue bigger dreams. "What if she stops me?" he replies, haplessly, and leaves with a heavy heart. It's a rare line that even Pulkit Samrat gets right.
It's nice that new-age filmmakers still harbour visions of old-school romances and dreamy declarations, but you can't YRF it up in 2016 without inherent '90s tech-free simplicities - or without Shahrukhs, Kajols and Madhuris. I hate to say it, but the world just isn't as black-and-white anymore for these colours to stand out.
Just in case you're wondering who is in charge, the name Divya Khosla Kumar appears thrice in the opening credits (Film By, Written & Directed By, Special Appearance By). This is before she appears as an item girl in party song 'Humne Pi Rakhi Hai'.
For good measure, a 'Film By' is the opening slate of the closing credits too. We get it. This is yours. We'd have it no other way.