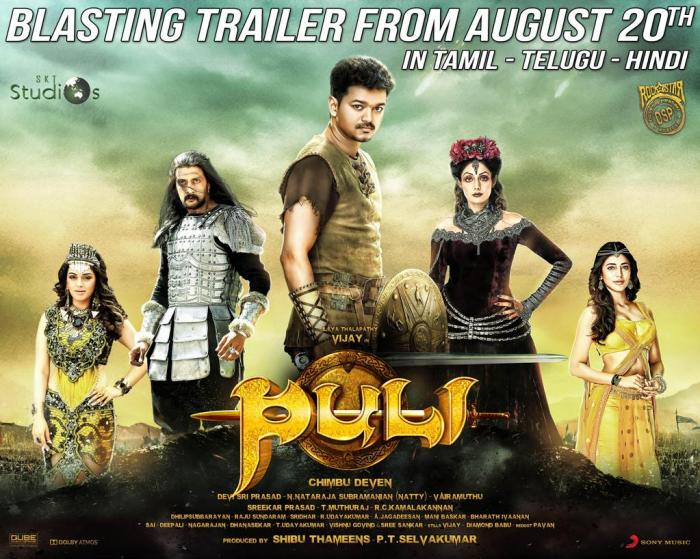 Puli - a fantasy film about one warrior\'s battle with a demon kingdom - doesn\'t measure up to Baahubali\'s lofty standards.
Plays out more like a multi-staged video game than a complex fairytale
Ambition on paper doesn\'t translate into thrills on screen
Unfortunately, or fortunately, for live-action Indian fantasy epics, imagination is now a function of time. We're in the post-Baahubali era. It's not entirely unfair that the bar has been set. After all, there's no point making the jump if you're not aiming to scale dizzy heights. Puli, the Tamil-language adventure film (dubbed in Hindi), is perhaps the first - and surely not the last - victim of this phenomenon. Four months earlier, and who knows? Perhaps this film would have seemed far more inventive.
A cocktail of fairytales
Director Chimbu Deven's ambition is clear and familiar. He bases his universe around earthy villages, forests, rivers, mountains, lofty forts, humans and demons. An appropriately named heroic warrior named Magadheera (Vijay) concocts up a plan to rescue his ladylove (Shruti Haasan) and avenge his slain family. For this, he must reach and infiltrate the dark 'Vetaal' kingdom, its hypnotic queen (Sridevi) and venomous army commander (Sudeep).
In trying to fashion this larger-than-life story of good versus evil, in trying to design an all-in-one fairytale that'd awaken the child inside adults, Deven ends up creating a glorified Super Mario video game. Mario-dheera must rescue his entrapped maiden from a castle tower after passing distinctive stages - befriend tiny 'Gulliver's Travel' folks, solve riddles from a giant tortoise, lick poisonous frogs for directions, and fight panthers and one-eyed monsters to enter the castle. Lest we think this is a kiddie flick, there are enough severed body parts and gory deaths to reiterate its no-man's-land genre. It's too derivative for children, and too tacky for adults. The thrills, few and far between, lack spontaneity and appear too engineered. Random characters appear as convenient narrative devices to drill through dead ends. It's a crime for the writing to be so lazy in such massively mounted projects. Often, I found myself pressing on invisible console buttons to enter a bonus round instead. I wanted to skip the stages. Invariably, these stages involved Miss Haasan smiling, blushing, dancing and pouting; notably, she's at her most expressive when unconscious.
Vijay, an affable young chap who takes great pride in his dancing skills, looks too pleasant to be the earth-shattering Magadheera. It's not his fault that songs pop up as abruptly as they're cut off, without so much as a visual or sound transition. Some of his combat sequences are choreographed well, but he spends half his time diving across different ladies to shield them. In doing so, he repeatedly emulates an agile Ajinkya Rahane in the slip cordon. Sridevi plays the generic evil queen in a Lady-Gaga daze; her strides and reverberating voice reek of royalty-gone-awry. Heavy costumes and make-up weigh down on her, but she keeps that enigmatic Tilda-Swinton-meets-Angelina-Jolie-grin in tact. Sudeep is perhaps the only actor who looks the part; it helps that his menace is ably supported by what has now become a standard backstory of deceit and murder.
Maybe it's not a bad sign that a substantial marker for creativity isn't enough anymore. Chimbu Deven's vision is admirable, but there's no complexity to his interpretation of fantastical worlds. Sadly, his choice of scale means he will be directly measured against the exploits and accomplishments of SS Rajamouli and Shankar. At least he goes down swinging - perhaps the most honorable way to lose in an era peppered with lazy mainstream filmmaking.