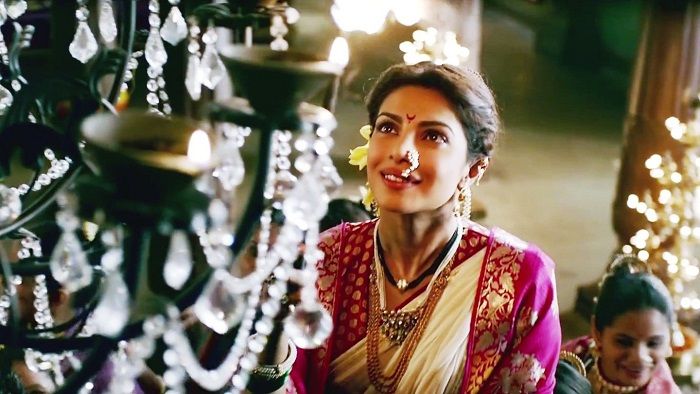 Want to see Indian versions of Jon Snow or Arya Stark? Or perhaps Cersei Lannister? Just wait for another couple of weeks and you can see fully clothed versions of them, courtesy the Ranveer Singh and Priyanka Chopra starrer, Bajirao Mastani. It looks like the only way to explain a bollywood costume drama to an international audience is to compare it to Game of Thrones!

So now India has its own Game of Thrones. Or at least that's what Bollywood hottie and Quantico star Priyanka Chopra told team Quantico while explaining her upcoming release Bajirao Mastani's trailer.

Also Read: Bajirao Mastani vs Dilwale: 6 things that Priyanka Chopra said before leaving for Quantico

It seems the period film's costumes and look convinced Team Quantico that people in India still dress like rajas and ranis! According to Chopra,
"Team Quantico has seen the trailer and songs of Bajirao Mastani and they think our film represents India. So I have to explain to them that this is a period film and we don't dress like this all the time. Finally, I had to tell them that this is India's Game of Thrones."
Also Read: Bajirao Mastani, and Dilwale look to woo Tamil and Telugu audiences
Priyanka Chopra, who will be seen as Kashibai in Bajirao Mastani, took a day off from the shooting of Quantico recently to visit India for the promotions of the film.
In an interview, speaking about her character in the film, Priyanka Chopra said, "My dialect in Bajirao Mastani is 500 years old, so to get that right was a tedious task. No one has even seen a picture of Kashibai. So no one knows who, how and what she was.

People talk about Bajirao and Mastani's love story but to me the biggest reason to play Kashi was to play a character that history has never spoken about. I have never played such a soft and vulnerable character. I like to play tough characters, so when I do a character like Kashi, it is very novel for me and at the same time it is very hard for me to play a girl who can't protect herself."
The movie is set to release on 18 December 2015.