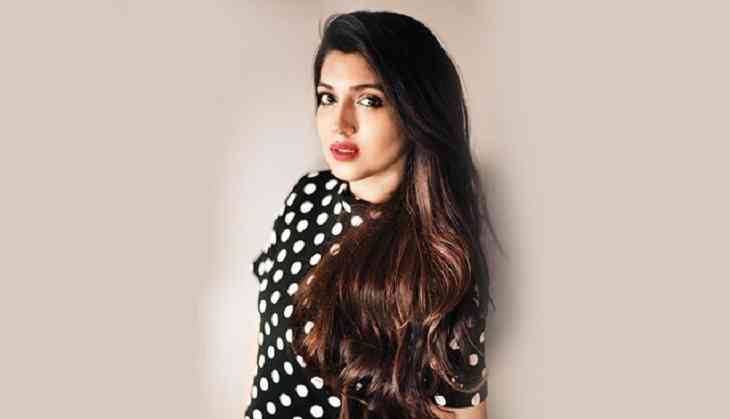 Bhumi Pednekar earned accolades for her debut performance in Dum Laga Ke Haisa two years ago. The actress took a while to decide on her next film Toilet –Ek Prem Katha, which is set to release next month. Bhumi talks about the film, her co-star Akshay Kumar, her upcoming films and more.
What made you choose this film?
When I heard the story, the biggest attraction for me was that it was such a beautiful love story. It is a simple, nice rural love story where villain is a toilet. It is a complete entertainer; it has a backbone of a social message. That was the selling point for me. It is a story of a character which actually exists in India. It is not a preachy film, it is fun. I am sure you will have a smile on your face when you watch it and it leaves you with a thought that you need a change. It was writer and directors big achievement to do it that way.
Was there any inspiration for you to play this role?
I am born and brought up in Mumbai but I know this world. I have extended family, so they are still in villages. Their exposure may be different but their aims and ambitions are same. They are smart, intelligent. This film is inspired from real life incidents, so there were enough material I read up on.
Do you think issue based film actually make an impact?
Our film is a love story primarily. Films are the largest and impactful medium to reach out to masses. It is fortunate that in today's time such films are being made, autobiographies or biographies, inspirational stories. So if you don't take advantage of the medium which has been provided to you then you are really being foolish. The fact is that today our society is going through a crisis at an individual level we need to do whatever we can. We need to part of the change and I feel lucky that I got a chance to do such film.
Were you nervous to shoot with Akshay Kumar on first day?
I was jumping with joy when I got to know that I was working with Akshay sir, he is one of the most successful actors in the industry. I had met sir twice before we started shooting. His great quality is that he makes you comfortable. He comes down your level and there were new pranks every day, we were taking each other's case all the time not only us but the entire crew. So all my nervous energy turned into excitement and it was very helpful too. We made this film and I am proud of it.
Were you upset when Manmarziyaan got shelved?
In all honesty it was one film, I had signed this film before that one. So in my mind I already had three films which I am doing. But one of them did not work out for whatever reasons. There is so much that goes into completing a film. with the same people I am doing Shubh Mangal Savadhan. So it is all good. My life was delayed by six months but it is all fine. There are no regrets; For a year and half I was away because I was trying to get into shape. You are always attached to your work so you feel bit upset when certain things dont work out,. But it is always for the betterment of the project. I know whatever happens with the film now whether I will be in it or not I as an audience is excited to watch it because it is a beautiful story. With some films you hit bull's eye with some you won't, that is okay. I take each day as it comes. I really don't dwell upon it. I was fortunate enough to have other work and I have moved on.
Does your earlier experience in casting help you while choosing a film?
I am sure it does. Whatever work you do it subconsciously helps you. I did different things in YRF in five years of my career. When I was into casting I would read so many scripts ,characters, I started understanding what I like and what I don't like. That really helps me to take a right decision when a script is offered to me. I think these are the right decisions which I have made. Apart from that my mom is my one stop person. I make her read all my scripts. She is someone I believe in, I see how she perceives a film.
Do you like the limelight?
Not really. I am a very private person. I only talk about my films. But being an actor brings you in the public eye and I am prepared for that. Luckily so far I have not seen the flip side of it. Everyone has been kind to me because I come from a film like Dum Laga Ke Haisha It has cushioned me; it has protected me from lot of negativity that I could have gotten. I have not really felt need to make any statement to survive in the industry. Personally I love every aspect of acting. I am a warm person and that is a big reason why people connect with me. People in the media have been nice to me. I have had no bad experience so far.
What is Shubh Mangal Savadhan all about?
Shubh Mangal is done, trailer will be out soon. It is a rom-com and it is a hilarious film. The entire set up is good, Songs are great.It is not really a remake of South film. I have not seen the Tamil film but it is completely different than that film.
What are your views on body shaming and trolling?
Body shaming is the worst thing you can do to an individual's morale. It is so strange that if you are fat, people comment on it, if you are thin then people comment on it, you are tall or short people comment on it. Live and let live, physical appearance is not everything, it is disgusting for me to see on social media, where people circle different body parts of women and put it up. I don't know what is wrong with them. Apart from being an actor, she is somebody's daughter. Don't these things happen to you? Sometimes when you are walking on the road and your dress flies because of wind, are you going to click those pictures and put it out. Don't all of us have a overweight member in our family? Do you make fun of your mother? I hate bodyshamers. You will be surprised to know that how many people in the fraternity do this. As far as trolls are concerned I will be lying if I say that I don't get affected. But it does not stay with me, next minute I am out of it.