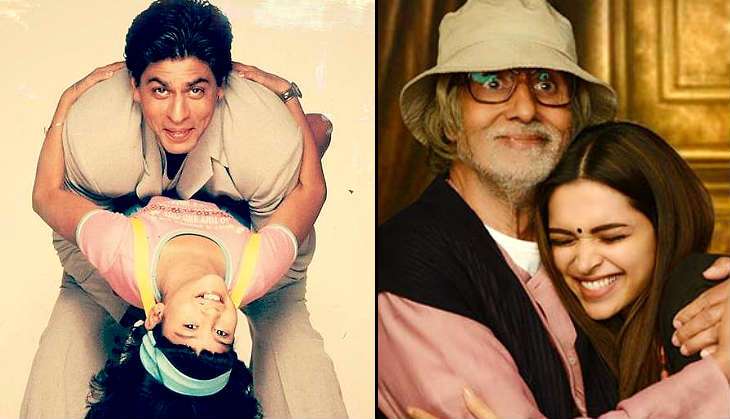 Hindi cinema portrays human relationships in the most experimental ways. Though it uses a generous dose of cliches, these movies have successfully incorporated a diverse range of relationships.
This Father's Day, let's look at how our Hindi films have been portraying dads on-screen. From strict fathers to the grumpy ones to the most lovable ones, you can find any kind of father in Bollywood.
Here's the list of 11 kinds of fathers we saw in Hindi films and immediately related to.
1. Gol Maal (1979)
Utpal Dutt in a sill from Gol Maal
Utpal Dutt portrayal of Bhavani Shankar, a great upholder of traditional values, is actually endearing. He's a strict dad and hates the youth of the country, especially men without a mustache. His bond with daughter Urmila, played by Bindiya Goswami, are the highlights in the cult comedy film.
2. Dilwale Dulhania Le Jayenge (1995)
Anupam Kher, Shah Rukh Khan and Amrish Puri in a still from DDLJ
This film showed two kinds of dads -- one who just can't approve of his daughter's love and one who celebrates his son's dismal academic results. The film is a classic love story that made Amrish Puri and Anupam Kher legendary on-screen dads.
3. Chachi 420 (1997)
Kamal Haasan and Fatima Sana Sheikh in a still from Chachi 420
He doesn't mind impersonating as a woman to be closer to his daughter and win back the trust of his wife. That was daddy Kamal Haasan rocking it in the film.
4. Kuch Kuch Hota Hai (1998)
Shah Rukh Khan and Sana Saeed in a still from Kuch Kuch Hota Hai
Shah Rukh Khan plays a single parent to an adolescent girl. The father-daughter duo shares a beautiful bond that is on display when the two go great lengths for each other's sake.
5. Kabhi Khushi Kabhie Gham (2001)
Shah Rukh Khan and Amitabh Bachchan in a still from Kabhi Khushi Kabhie Gham
Amitabh Bachchan plays an egoistic father, who for the sake of his prestige and family values, doesn't mind breaking ties with his son. He redeems himself in the end when realises the folly of his ways.
6. Kabhi Alvida Na Kehna (2006)
Amitabh Bachchan and Abhishek Bachchan in a still from Kabhi Alvida Na Kehna
Amitabh Bachchan as sexy Sam wasn't just a cool dad to Abhishek Bachchan but a really cool father-in-law to Rani Mukerji. When he realises that his daughter-in-law doesn't love his son, he skips the drama and advises her to listen to her heart and seek happiness.
7. Mere Dad Ki Maruti (2013)
Ram Kapoor and Saqib Saleem in a still from Mere Dad Ki Maruti
Ram Kapoor here plays the most quintessential kind of dad -- who'll scold his child in front of everybody, tell all how good-for-nothing his child is but in the end, do every possible thing to get his child out of a problem.
8. Yeh Jawaani Hai Deewani (2013)
Farooq Sheikh in a still from Yeh Jawaani Hai Deewani
Actor Farooque Sheikh played Ranbir Kapoor's father in the film. And though there were not many scenes in the film featuring him, his role as a supportive dad to a free-spirited son touched many hearts. It's hard to use just two scenes to establish the complexity of a father-son relationship with so much of ease.
9. Dil Dhadakne Do (2015)
Anil Kapoor and Ranveer Singh in a still from Dil Dhadakne Do
Anil Kapoor plays the kind of father whose aim in life is to smoothly transfer his massive business empire to his son played by Ranveer Singh. His son, however, has no interest in taking over the business his father has created.
Kapoor's character in the film is that of a dad who makes are sure that his children get the best but fails to see what his children actually want and desire.
10. Piku (2015)
Amitabh Bachchan and Deepika Padukone in Piku
He nags but he's the best because his daughter's pre-marital sex choices are not one of his concerns. His own health is, however, his favourite concern.
11. Kapoor and Sons (2016)
Rajat Kapoor, Sidharth Malhotra and Ratna Pathak Shah in a still from Kapoor and Sons
Rajat Kapoor plays a father who's badly trapped, stuck in the battle to keep his family happy. He has two young sons, an aged father, and a nagging wife -- but no time to look after his own needs, analyse his deeds and what he wants from his own self.