Salman Khan is the big name in the film industry and also, a masiha for many people. Currently, 'Bajrangi Bhaijaan' is busy doing the shooting for his upcoming film 'Bharat'. Besides, Salman is also famous for bringing newcomers to the film industry. As we know that Salman has given talented actors, singers like Katrina Kaif, Himesh Reshammiya, Athiya Shetty and many others. Recently, he Bharat actor has launched Aayush Sharma, his brother-in-law in tinsel town.
Aayush will soon be seen on the silver screen in his debut film Loveratri which is likely to hit the silver screen on 5th October 2018. But, before his film release, Aayush fell in the troubles.
Yes, Salman's brother-in-law is in trouble because of fan, who uploaded Aayush picture on social media and also tagged Police.
Have you seen the pic? Before telling you the reason, let's have a look at the picture which created a trouble for Aayush: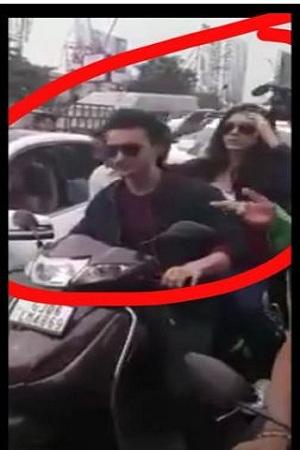 Do you find the mistake in the pic? Well, in the photograph, Aayush can be seen with his on-screen actress Warina Hussain and they can be seen enjoying the riding bike in the streets of Vadodara. However, one mistakes that both of the stars did that they were riding a bike without wearing a helmet, which got clicked by a fan.
The fan has uploaded the image and also tagged the Gujarat police. Due to which, Police have issued the challan of Rs 100 to both actors.
Loveratri star cast did road show in Vadodara!! They didn't wear helmet so Traffic police issued a challan for not wearing helmet !! @Vadcitypolice #loveratri pic.twitter.com/8KM9EtpmDg

— Vadodara- Baroda (@VadodaraUpdates) August 14, 2018
After this tweet, Vadodara police once again uploaded another post:
We must say that Gujarat Police gave a lesson to all that everyone is equal in front of the laws, be it a celebrity or a common man.
How do you feel after reading this story? Comment.
Also read: Dhoom 4: Neither Salman Khan nor Shah Rukh Khan, but this superstar can play villain opposite Ranveer Singh?