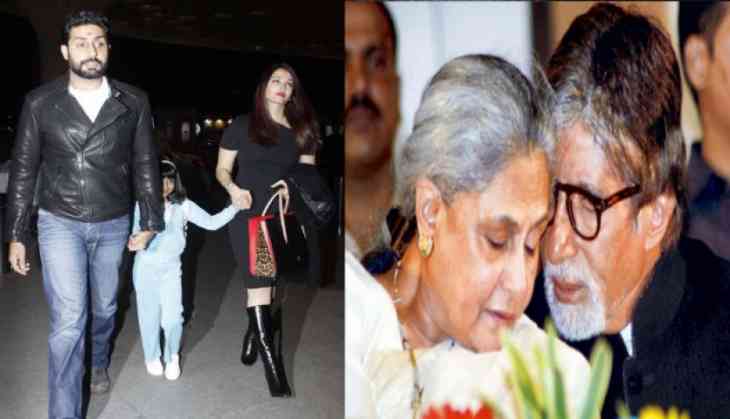 OMG! Abhishek Bachchan to celebrate his birthday with Aishwarya and Aaradhya; Amitabh and Jaya not invited
It looks like that nothing is going in between Bachchan family as Abhishek has left his parents Amitabh and Jaya to celebrate his birthday with wife Aishwarya and daughter Aaradhya. They all left for Australia and will celebrate the birthday on 5th February. But Amitabh Bachchan and Jaya Bachchan will not be there to celebrate Abhishek's birthday.
Although Amitabh and Jaya always been excited for their only son Abhishek's birthday it looks like that this time they both are not invited to celebrate Abhishek's birthday. Amitabh and Jaya are not going to Australia and the reason is being told Aishwarya Rai Bachchan.
Also Read - Brahmastra actor Ranbir Kapoor returns to Yash Raj Films; ready to do a film with this hit filmmaker
According to some reports, Aishwarya's relation with his in-laws is not going from last few months. Recently in an event, the internal fight between the family came out. This is to notice recently in one event Shiom Bollywood in Taj Hotel in Mumbai, Abhishek came with her wife Aishwarya whether his mother Jaya Bachchan came alone.
Also Read - Twitter goes berserk with Jaitley's budget for no tax relief in Taimur Ali Khan's diapers
Normally, whenever Jaya and Abhishek go to any event they always have seen together but this time the distance between both can be seen clearly. Even Jaya Bachchan was spotted very angry and sad, she was lonely at that event. When Jaya was going to back home, Abhishek and Aishwarya were busy in giving pose to the cameras, Abhishek didn't even come to help his mother to sit in the car.