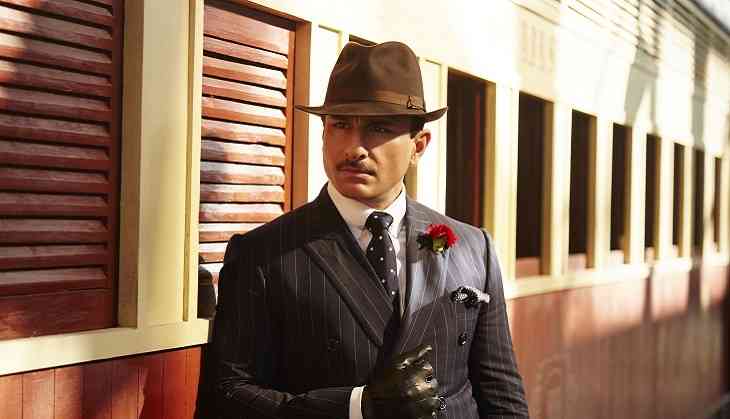 Saif Ali Khan in Rangoon (Saif Ali Khan in Rangoon)
Rangoon has everything that could make for a perfect film. A sensitive director (Vishal Bharadwaj), breath taking cinematography (Pankaj Kumar), a talented set of actors and an inspiring storyline set in the exciting period of the 40s. There is glamour as the lead character Julia (Kangana Ranaut) is evidently inspired by the fiery, daring stunt queen of the 40s, Fearless Nadia. There is patriotism as the backdrop is World War II and some of the characters are torn between their loyalties towards the British army and Subhash Chandra Bose's INA.
Wadia movietone, owned by Wadia brothers, was one of the most successful action film churning production company. The lead star of most of their movies was Nadia. A stunt artist who kept people enamoured by her death defying stunts. Even though the film-makers have denied any connection to Nadia it is evident that it is inspired by her fascinating life.
Jamshed Wadia is Russy Billimoria (Saif Ali Khan) in the film. Russy has picked up Julia from the streets at a tender age and gives himself credit for making her a successful star. Julia treated and behaves like she's his pet, part out of gratitude and partly due to her love for him. Russy is in full support of the British army and so when the Urdu shayri spewing British officer David Harding (Richard xxxx) asks him to send Julia to the Indo-Burma border to regale the Indian soldiers, he cannot say no. Julia is sent with her troupe and a soldier in the British army, Nawab. (Shahid Kapoor). Circumstances lead to Julia and Nawab spending some time together and then the inevitable happens. Julia and Nawab get passionately involved with each other. Slowly, the true colours of the characters are unravelled.
However, in spite of all this, the film is more disappointing than entertaining. There are some gorgeous moments, that one would carry forever, but unfortunately the narrative is flat and shallow. Most of what is happening on the screen leaves you untouched as there are too many loose ends and at points there are obvious manipulations done to suit the situation.
Kangana Ranaut is brilliant as usual. She looks stunning and lives the role with much aplomb. It is a pity that neither the script nor the execution could explore this opportunity of an actress of her caliber enacting a truly fascinating character. Saif Ali Khan yet again shows what a competent actor he is, as he plays a wronged lover with amazing conviction. This yet again makes one wish that Saif chose his roles a little more wisely than he does. Shahid, however, disappoints as he goes about playing his character surprisingly casually and one suspects with a dose of overconfidence.
Watch it once, if only for the mesmerising music, cinematography and performances.
Rating: Three