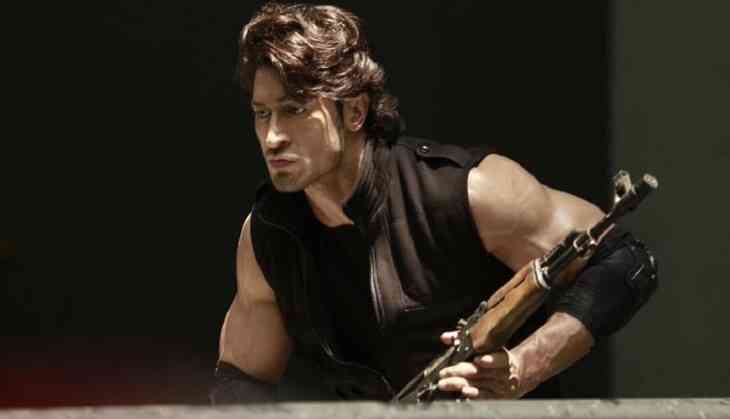 Vidyut Jammwal in Commando 2
One wonders if the only instruction given to the writers before writing this script is, 'Use these words, 'demonitisation', 'farmer suicide', 'black money', 'swiss account'. Make sure these words come up again and again. Oh by the way, don't bother your head too much about fitting them into any context, these amazing words will take care of the story, script and everything else.'
How else do you explain a mess called Commando 2? The film seems to have had zero thought put into it.
It is no surprise then that the original Commando seems like a masterpiece as you are squirming your way through this two hour long, loophole filled, mostly devoid of logic sequel.
Vidyut Jamwal comes back as Captain Karanveer Singh Dogra. This time he is beefier and unfortunately tad dumber. Why else would he in the opening scene risk his life to climb an entire building with a makeshift ladder, only to come all the way down to nab his target foe in the basement? Unless of course, he is addicted to the special background song that automatically plays when he as much as lifts his dhai-teen-paanch kilo (your guess is as good as mine) ka haath to hit whoever crosses his path. Or perhaps the director has no better idea than this to educate the audience about the hundreds of ways he can hurt, maim or kill his opponent.
So, Karan's mission this time is to bring people responsible for siphoning off black money to swiss accounts to book and for that he has to nab a criminal, Vicky Chaddha, the middleman. Karan is accompanied by fellow officers, Bhavna Reddy (Adah Sharma), Bhaktawar (Freddy Daruwala) and Jaffar (Sumit Gulati). Vicky is arrested in Malaysia, so it is up to this gang to bring him back.
Adah plays a cop, who loves shopping, is self admittedly thoda thoda corrupt and speaks in a strange accent which veers from being Hyderabadi to mumbaiya. But she's still a delight in this otherwise brainless, testosterone driven movie.
Vidyut Jamwal is largely expressionless, but with a body like that and the ease in which he does stunts, he looks perfectly capable of sending ten men catapulting in the air at one time. Esha Gupta, who looks like she walked straight out of Rustom sets to this one, needs to take on better roles than just being portrayed as a sex kitten.
Rating: 1.5 stars