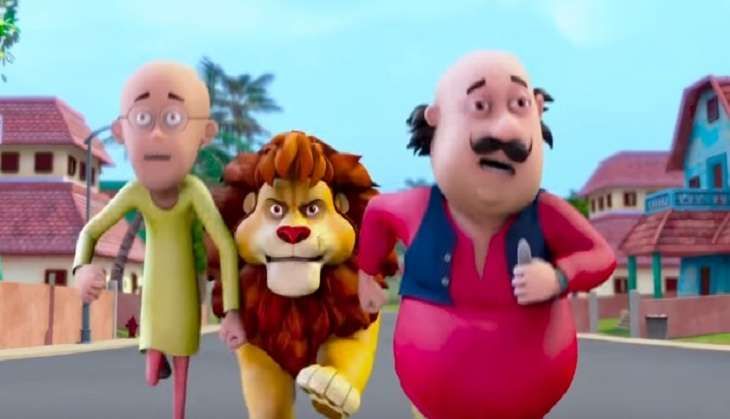 Motu Patlu: King of Kings is an animated film largely targeted towards children. It is a cinematic adaptation of two iconic cartoon characters 'Motu' and 'Patlu'. Does the film raise the bar for animation in India? Let's analyse:
What may work for the film:
Motu Patlu addresses the very timely issue of humans destroying the environment and wreaking havoc on the flora and fauna for their selfish gains.
The film is about how two selfless people, Motu and Patlu, fight for animals' rights in the wild after the king of jungle i.e. lion is killed by a hunter. It narrates the story of a lion who is fed up of performing tricks in a circus and runs away, only to find himself in the middle of a jungle, mistaken as the king. Then, with the help of Motu and Patlu, he saves the wildlife from human destruction.
The dialogue "sher sher hota hai, circus ka ho ya jungle ka bus apne aap pe bharosa hona chahiye" (whether a lion is in a circus or in a jungle, he is always a lion if he believes in himself) pretty much sums up the entire story.
Apart from addressing a relevant issue, Motu Patlu will easily find a place among one of the better animated films made in India, joining the likes of Roadside Romeo and Delhi Safari.
What may not work for the film:
A film that appeals to kids is usually high on the humour quotient. However, this film sadly lacks quirky one-liners after the initial few scenes. The makers could have roped in better dubbing artistes as well as some of the voice-overs are too loud after a point.
The screenplay had the potential to touch many environmental issues rather than getting repetitive in the second half where the negative character is shown using the same tricks to trap animals time and again. With a half-baked screenplay, there isn't much happening in the second half.
Will it do well at the Box Office?
The holiday season would have been the ideal release period for Motu Patlu as that's when kids come out in huge numbers to watch films. However, with this one releasing during the examination period, it will be difficult to even recover the investment.
Animation films usually appeal to the metro audience. There isn't a wide market for such films as the target audience is exposed to Hollywood films, which are miles ahead in terms of technology.
Irrespective of the Box Office result, Motu Patlu is a step towards growth in the animation sector. Hopefully an engaging story and better release strategy will work wonders for such films!
Box Office Prediction:
Lifetime Collections: Below Rs 7 crore