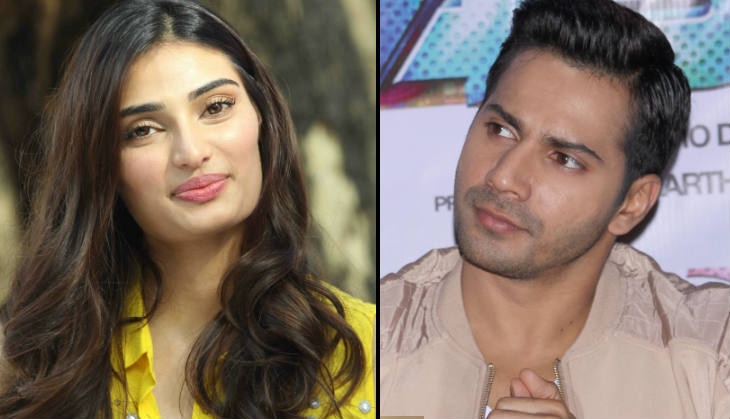 Mother's Day is round the corner and Bollywood stars are using this special occasion to acknowledge the blessings and unconditional love that their mothers have constantly showered upon them.
This is what these 13 Bollywood stars said about their mothers. Take a look:
Athiya Shetty
My mom, Mana Shetty, owns a furniture store, RHouse, and runs an NGO, Save the Children India. She is also my best friend, my backbone and my biggest support system. I feel equally close to both my mom and my dad (actor Suneil Shetty) but I share a different relationship with each of them.
I don't think one day is enough to express a mother's worth or emphasise her importance in our lives. A mother is the one figure in every person's life with whom one forms a comfort zone. She's powerful and strong, and at the same time she can love so much ... and so unconditionally. Like I always say -- Home is where the Mommy is.
Tiger Shroff
I truly love my mother, Ayesha Shroff. Dad (actor Jackie Shroff) is very strict at home but my mother is not. If there is anyone for whom I would be a baaghi for in real life, it is for my mother.
Varun Dhawan
"My song 'Chunar' from ABCD 2 paid tribute to mothers and speaks of the mother-son relationship; my mother, Karuna Dhawan, loves this song. When I was shooting this song, I went into a flashback thinking how much I have hurt or caused trouble to my mother. I have hurt her a lot of times ....I made mistakes as a child and even when I grew up, I erred. I am extremely close to both mom and dad.
Hema Malini
Dance has always been a great support for me; it's like my right hand. And dance happened to me because of my mother, Jaya Chakravarthy. Right from a very young age, she introduced me into dancing and instilled the interest in me. It's because of dance I got this name and films. That's how my mother brought me up. We have been holding a dance programme 'Jaya Smriti' in my mom's name for many years. She wanted me to continue with classical dance.
She was a great art lover; whatever I am today it's all because of her.
Ritu Shivpuri
My mother Sudha Shivpuri played the iconic 'Baa' in the blockbuster TV serial 'Kyunki Saas Bhi Kabhie Bahu Thi.' I miss my mother and father with every breath. My mother worked all her life and once we were grown up she resumed work again; she managed everything despite work. My mother and father never deprived us of anything but we were always taught to value things, people, and relationships and so we were happy in all situations. My mother would tell me get back to work once my kids got busy. Today, I am sure she will be very happy to see me working again.
Daisy Shah
My mom Pallavi means the world to me; she is the biggest support of my life. I was closer to my dad earlier, but after my dad passed away, she is both my mom and dad.
Mothers make the house into a home - they are truly special as the entire family's existence revolves around them. Mom is the most hardworking person in the family.
Nimrat Kaur
My mom Avinash Kaur is a homemaker. I am extremely close to her ... I have lost my dad hence she's all I have.
Our relationship is just wonderful; she's my strength ... she is just everything to me. A mother is the best gift God has given to anyone.
Nushrat Bharucha
My mom Tasneem Bharucha is a businesswoman, TV show producer and a housewife. Basically she is a superwoman. Being an only child, I am close to both my parents.
We are the best of friends one moment and suddenly we will break into a nonsensical fight which leads to a few minutes of silence ... but soon we are back to talking to each other as if nothing has happened in the first place!
I know I won't be able to do half the things I do in my regular day, if I don't have my mother around. My mom is the most selfless person I have known. She is the prepositions that give my sentence the right meaning. She will break all rules for the people she loves. She has fought all pressures and supported me in my journey. On this Mothers Day, all I want to say to her is that I hope where I am right now has made the battles worthwhile.
Adhyayan Suman
My mom Alka Suman is a couture designer and a housewife. I share a very beautiful relationship of unconditional love with my mom. She lost her son, my brother, at a very early in her life yet she kept the family together.
She is a true definition of Mother India! And womanhood. I think that a mother is the only one in this world who would not think twice before giving her heart if it comes to saving her child. She doesn't find reasons to love ... her love is selfless.
Sonu Sood
My mom Professor Saroj Sood taught English and History. She was also my teacher in college. She was my inspiration in my life. I was very, very close to her but unfortunately I lost her seven years back. Life has never been the same after her death.
I still read all the inspirational letters she wrote to me. Whenever I am feeling down, I open that file of her letters and read them. It really motivates me to work hard. No one else can make the sacrifices she made for us -- she worked really hard on her life, specially for her kids. Whatever little I have achieved in my life is because of my mom and dad.
On Mother's Day I miss her a lot. It is the day to honour your mom because she brought you in this world; she's a special person for everyone. In fact, for me all 365 days of the year are Mother's Days. I do celebrate Mother's Day in her memory but then her memories are always with me.
Arjan Bajwa
My mother Nimmi Bajwa has been a pillar of support to me in all aspects of my life. She is the only parent I have now after my father died. Even though my father may not be in this world, he remains my hero and my soul-mate forever and at the same time, my mother is the essence of my existence.
Mothers are the ones who bring you into this world. You can have many relationships in the world but nothing can ever replace the bond between a mother and a child.
Darshan Kumar
My mother Kamla Devi is a housewife who sacrificed her teaching career to concentrate on raising my younger brother and me. She is my pillar of strength. I love her the most and she is the best Mom in the world.
Her unconditional love, patience and blessings have nurtured me and made me what I am today and I completely owe it to her. I think a Mother is the second face of God.
Prosenjit Chatterjee
My mom Ratna Chatterjee left us a long time back. She was a typical housewife of a superstar husband (actor Biswajeet). I was always closer to her more than to my dad. My mom and I shared a very friendly relationship -- we would share every minute detail of our life. Both of us would also scold each other if there was a problem.
Moms are the best gift to any child. Even today, when I leave my home, I talk to my mother through her pictures and take blessings from her. I know she is watching over me from heaven and she will be happy to see how her son has grown. I know that I have made her proud.
-- Bollywood News Service