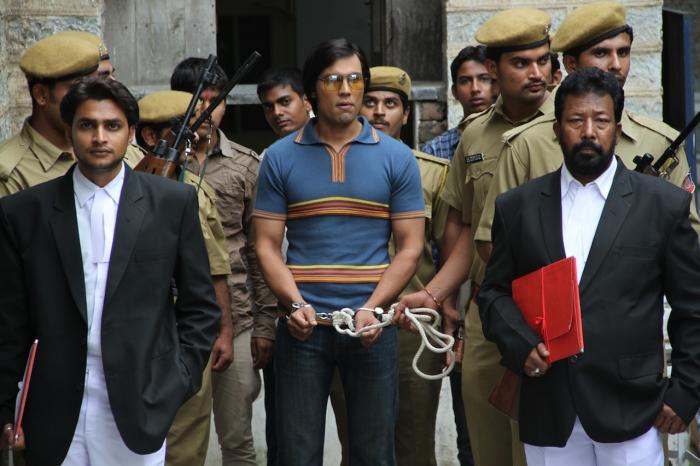 Rating:
Highs:
Hooda actually looks and sounds the part of a real-life serial killer
Lows:
We\'re shown an incoherent sequence of events
A general sense of overambitious storytelling
The filmmaker seems to be the only one who understands Charles\' adventures
Main Aur Charles is a very strange film. At best, it's a visceral failure. At worst, it's a structural mess. Unfortunately, writer-director Prawaal Raman (Gaayab, 404) already assumes that we're familiar with this particular decade of Charles Sobhraj's life.
What? Who? Why? How?
The first hour is a haze of randomness. Women are undressed, smoke rings blown, stylish nods given, and drinks are spiked. Did I mention women are undressed? We're shown an incoherent sequence of events leading up to Charles' arrest in Goa in the 1980s. This is apparently already after his famous Tihar jailbreak. And way after he has conned his way across Europe, Nepal and Thailand.
At the interval, all we know is that Charles is incorrigible, charming and a chain smoker. And that Randeep Hooda does a groovy French-Indian accent. He repeatedly lights up in dark rooms to signify devious intent. The Don-has-arrived background music does the rest. His psychology is examined through trippy music on hippie Goa beaches.
The filmmaker seems to be the only one who understands Charles' adventures inside out. And he presumptuously resorts to a non-linear narrative to spice things up.
Enter Good Cop, Bad Cop
In the second half, we're told that the first half was gibberish on purpose. Thankfully, the 'Main' inMain Aur Charles, Inspector Amod Kanth (Adil Hussain), stops screaming and starts interrogating. He knows that Charles can seduce anybody, including naive supervisors, journalists and psychologists. He lets us examine different facets of Charles' shape-shifting persona through their stories. He represents the voice of sanity in a world full of hopeless romantics.
These scenes are amusing on their own, but difficult to place in context of the film. There are a lot of altered-perspective flashbacks and timeline leaps. Again, a general sense of overambitious storytelling persists.
Various offshoots - like Kanth's wife (Tisca Chopra), Charles' writing deals and the Delhi-Mumbai police rivalry - are abrupt and distracting. They look like aborted attempts to offer a more panoramic view of proceedings.
Now We're Talking
If one really concentrates, it's easy to count the number of times the term 'hypnotic' is used by his various wives and victims. His spell is however limited to Hooda's admittedly sexy grins and glances. It's interesting to see how Raman presents him as a suave Catch-Me-If-You-Can globetrotter through the dewy eyes of besotted Meera (Richa Chadda) and co-conspirator Richard (Alexx O'Nell). He's probably a womanizing psychopath with no remorse, but that wouldn't be fun to watch. Instead, we're shown how intelligent he is. How he's perpetually dressed to undress. How he intricately understands the Indian judicial system, and the obvious virtues of celebrityhood.
Only Mr. Kanth knows of his genius, but refuses to acknowledge it. And only he feels like the Batman to Charles' Joker. At one point, Charles even invites him to be evil like him - because 'it's fun'. It's in such moments that Hooda stops being a cinematic slow-mo-loving villain; he actually looks and sounds the part of a real-life serial killer. And it's in these moments that the film truly attains some temper.
An Intriguing Misfire
Despite this late surge, Main Aur Charles misses the playfulness that fictionalized versions thrive on. The setup is fatally vague, only so that the deconstruction seems smarter in the end. In a way, though, the filmmaker internalizes the spirit of the criminal.
It is said that Charles used to rescue the same tourists he drugged, to win their trust. Similarly, Prawaal Raman drugs his own film before rescuing it from his own indulgence. But I'm not too sure Charles trusts him anymore.