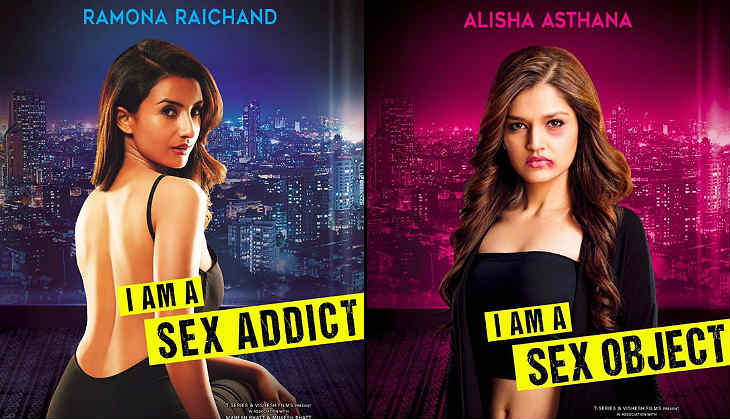 Director Vikram Bhatt's 29th Hindi film
Actress Patralekha's (Citylights) second film 
Yet another vapid examination of love, lust and betrayal
As part of his new film's classy publicity campaign, the inexhaustible Vikram Bhatt wrote a first-person account in a Mumbai tabloid about how his daughter set him up on a Tinder date with an air-hostess. 
Apparently, the woman rejected him after dessert because she was afraid she would "fall in love" with him. I'm pretty sure this poignant and sincere experience of his served as inspiration for Love Games' final money-shot line: The need for two lovers to be together is more than two f*ckers. 
And just like that, love wins the day over lust. Lust is dark and love is a white knight. Because, in the Bhatts' ever-evolving exploration of modern-day relationships, sex is a disease that only husband-killing psychopaths (Patralekha, as Ramona) are contaminated with. Just to drive home the point, every second scene opens with her snorting lines and yelling "Holy Moly!" and its many western variations. It doesn't help that her voice is equipped with the diction of that ominous Iraqi Major from Airlift. At one point, Ramona compares her partner-in-crime Sam's (debutant Gaurav Arora) infatuation with an abused trophy wife-cum-surgeon (Tara Alisha Berry; the only saving grace) to a scuba diver wading underwater. That he must surface for a piece of Iraqi Glenn Close is a given, because after all, they're coke-snorting sinners who get off by seducing happy couples at page 3 parties. And they call this mischief 'Love Games'. Oh, the irony. 
It could be worse though – they could be horny ghosts (Haunted 3D) or horny creatures (Creature 3D) or horny phantoms (Mr. X) or all of the above. Though Patralekha tries her damnedest best to look like she's participating in a supernatural Hunger Games' edition.  
To be fair, Bhatt is onto something with Sam's character. He slits his wrists just to feel alive, and is generally messed up, especially when he is told "Life is not worth living until you find someone to die for" by his dour psychiatrist. He rightly calls this a greeting-card quote and storms away. Later, of course, he falls for damsel-in-distress and admits she was right. Damsel falls for him because he records a romantic song for her, only moments after she strips to reveal domestic-abuse scars on her back. 
Mind you, she thinks he is a stalker by now. But a frontal shot of her bra is far more important for the filmmaker to portray her agony. 
Such naughty people leading naughty lives in naughty mansions in a naughty director's rather first-world interpretation of a world he thinks only he knows about. Even in Mr. X, Bhatt's previous unmitigated debacle, he had tried to pass off clear Cape Town as South Mumbai – with cop jeeps zooming from picturesque promenades into Mulund malls between two scenes. Here, MH-plated BMWs swerve across warm orange-lit Indian streets and enter the cold, balmy gates of Cape Town's hospitals and beach-front villas. 
Calling it a "posh urban thriller" is one thing, hijacking an entire landscape and soundscape to justify this inane production package is another altogether. I was planning to visit the country next year, and now I'm worried that I'll find rickshaws, overcrowded buses, honking scooters and hawkers selling Chetan Bhagat books and Bhatt DVDs at traffic signals.