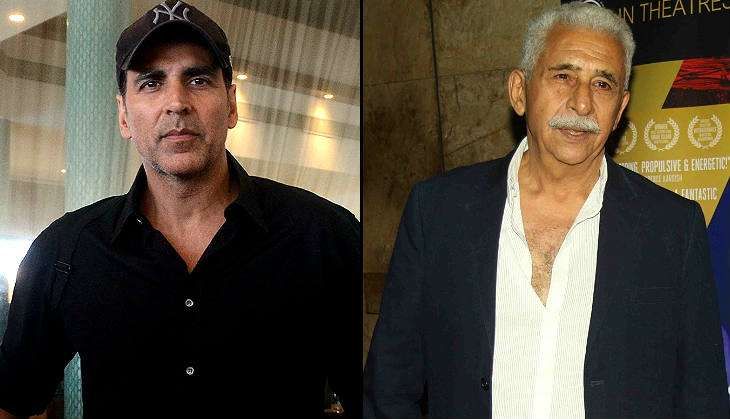 Actor Akshay Kumar is currently gearing up for the release of Rustom, a Tinu Suresh Desai film, also featuring Ileana D Cruz and Esha Gupta in pivotal roles.
During one of the promotional interviews for the film, Akshay was asked to comment on the recent controversy surrounding veteran actor Naseeruddin Shah's remark over his late father-in-law and superstar Rajesh Khanna.
Many celebrities including Akshay's wife Twinkle Khanna, Dimple Kapadia, and Karan Johar slammed Shah's remark. And when Akshay was asked to express his views over the same, he said that the issue is over for him now.
Akshay commented:
"I am in this industry for last 25 years, just tell me if I have ever spoken anything about other actors. Some wise person has said that mind your own business and I feel I should do my own work...who am I to comment on anyone."
He added:
"Everybody has their own way of talking and everyone can speak their voice out. Now it's closed. Nasser Saab has gracefully apologized and I would appreciate if we all forget about this."
In one of his recent interviews, the veteran actor had said that nothing has changed in Bollywood and it was the same as it was 50 years ago by quoting:
"The photography and editing is better but the subjects are as puerile as they were in the 1970s. In fact, it was the 1970s when mediocrity came in Hindi films. That's when the actor called Rajesh Khanna joined the industry. For all his success, I think Mr Khanna was a very limited actor. In fact, he was a poor actor. Intellectually, he wasn't the most alert person I have ever met. His taste ruled the industry."
He also said that it was during the 1970s that the industry became less content driven. "The quality of script, acting, music and lyrics deteriorated. Colour came in. You could make a heroine wear a purple dress and hero a red shirt, go to Kashmir and make a movie. You didn't need a story. This trend continued and I certainly think Mr Khanna had something to do with it because he was God in those days."
-- quotes from IANS