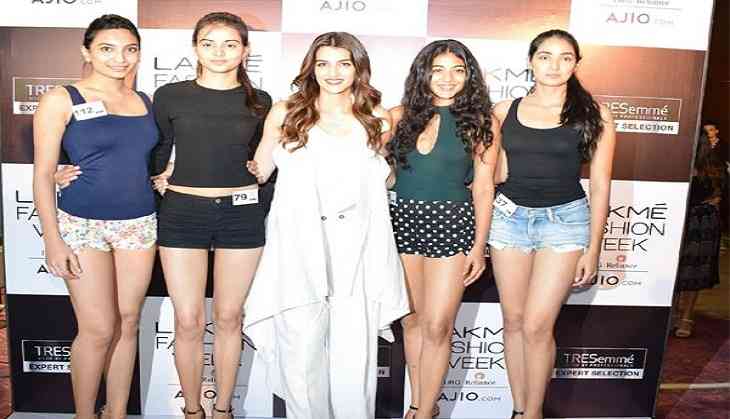 Other than the who's who of Bollywood, Lakme Fashion Week Winter/Festive 2017 will see four new faces on the runway, courtesy, the recent model hunt.
The LFW model auditions, held yesterday in Mumbai, saw over 150 aspiring Indian and international models showcase their talent at India's most sought after model hunt.
A panel of experts chose four winners, after three competitive rounds, to walk for the upcoming season. Nicole Padival, Daman Brar, Kiyara and Roshmitha Harimurthy wowed the judges, paving their way to the ramp this Winter/Festive season.
For the first time ever, the aspirants also competed for the chance to bag a contract with IMG Models, international leader in talent discovery and model management.
The jury included experts from the Indian fashion industry, Bollywood actress Kriti Sanon; fashion designer Manish Malhotra; fashion choreographer Lubna Adams, Head of Fashion, IMG Reliance Jaspreet Chandok, head of innovation, Lakme - Purnima Lamba and IMG International model scouts Luis Domingo and Victoria Da Silva.
The 'Raabta' actress said, "It feels amazing to be sitting between Manish Malhotra and Lubna Adams and judging these beautiful girls. Also, it is nostalgic to be back at Lakme Fashion Week where I started my modelling career and walked for around 5 seasons."
Manish Malhotra said, "As a designer, I'm passionate about details. There is something about giving a tactile form to an idea and then further refining it - with colours, embellishments, cuts and accessories, that gives wings to creative imagination. Models are key to telling this story. They lend personification to an attitude that each of my collections represent. From demure and confident to playful and elegant, a great model emotes and brings an outfit to life, giving my clients a glimpse of the 'Manish Malhotra woman'. I know the hard work and single-minded dedication that goes into building a career on the runway. A great personality is the deal-breaker when I'm selecting a model- it's the grace with which she walks onto the ramp and then goes on to owning it with her poise."
Purnima Lamba, the head of innovation, Lakme said, "All the contestants at today's model auditions showcased vibrant personalities and a bold freshness that resonates with the spirit of Lakme. The winners for this Winter/Festive season show a lot of potential and will surely take the runway by storm."
Jaspreet Chandok, Head of Fashion IMG Reliance said, "Lakme Fashion Week has always sought to introduce and nurture fresh talent from the industry . This season's Lakme Fashion Week Model Auditions in partnership with TRESemme saw a fantastic turnout. I am confident that those chosen will go on to make waves both at home, and internationally."
Lakme Fashion Week is credited with introducing some of the most successful faces in the Indian fashion industry including Deepika Padukone, Katrina Kaif, and Yana Gupta to name a few. With the Model Auditions in partnership with TRESemme, Lakme Fashion Week stands true to its commitment of providing a foundation to new and emerging runway talent.
Victoria Da Silva from IMG Models said, "We had an overwhelming response with over 150 girls coming in for the auditions, it goes on to show how popular Lakme Fashion Week is in India. We are looking for a fresh face that has an international appeal."
Luis Domingo from IMG Models said, "We are looking for a girl who has an interesting personality and hence we ensured that we not only judge basis their catwalks, but also spend ample time speaking to them and gauging their personas."
-ANI