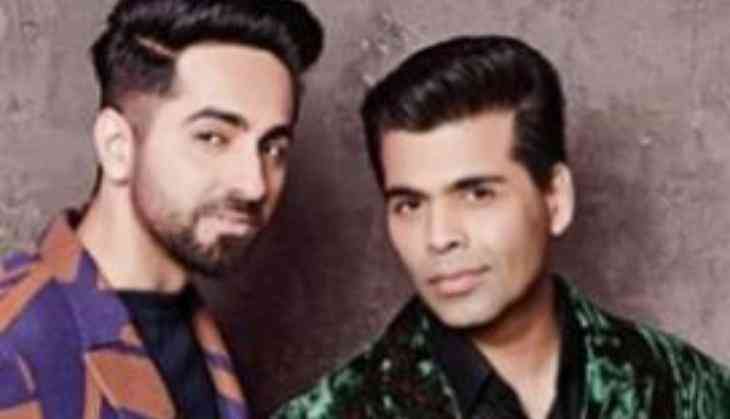 Karan Johar Ayushmann Khurrana
Today, Bollywood star Ayushmann Khurrana and actor Vicky Kaushal to arrive on Karan Johar's chat show Koffee With Karan. The intersting thing is that Ayushmann is going to do some more interesting revelations that how Karan ignored him in the initial phase of his career. According to the sources, Karan Johar even doesn't like this revelation of Ayushmann Khurrana.
According to Ayushmann, he asked for a contact number from Karan Johar in starting of his career when he was an RJ. While narrating the incident, Ayushmann told at that he was a host of a show and Karan was the judge of that show. He met him and asked 'Can I have your number? I want to be an actor'.
Tonight!!!! #koffeewithkaran @ayushmannk @vickykaushal09 pic.twitter.com/p3lcv0bOCp

— Karan Johar (@karanjohar) December 16, 2018
Ayushmann told that Karan offered him his landline number and when he call back to the number some other person told him that 'We don't audition outsiders and newcomers's or something like that'.
This revelation actually, troubled Karan Johar but like in his way he said 'I gave you my right contact number. 'That was very sweet of me!' I knew that time you are capable of acting'.
Ayushmann again said 'I wanted to talk Karan Johar at that time that could not be able to do that then Karan asked why you didn't say this earlier. Then Ayushmann said 'As an actor you have to say everything after thinking a lot and when I was an RJ I was free and whatever I like I did'.
Also Read - Director Ali Abbas Zafar reveals Bharat shooting stopped because of Salman Khan